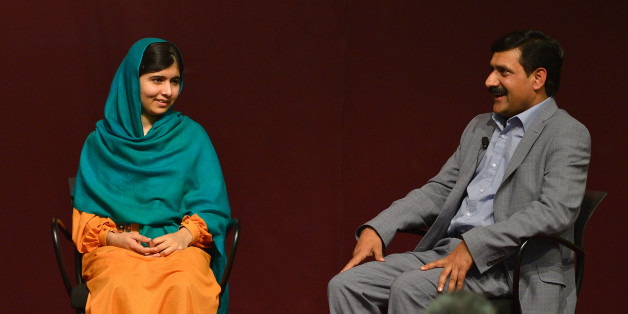 He comes from a part of the world that keeps its women hidden and powerless, yet Ziauddin Yousafzai couldn't be happier that his daughter is the reason he has become a household name.
Yousafzai's daughter, Malala, was nearly killed in 2012 when the Taliban shot her in the head for being an outspoken advocate for education. She has since recovered, and father and daughter have become synonymous with the fight to enable every girl to get access to education -- a mission they hope to spread across the globe, Yousafzai said during his address at the 2014 TED conference in Vancouver.
"Malala used to be known as my daughter, but now I'm known as her father," he said to the crowd on Monday. "In patriarchal societies, fathers are known by their sons. I am known by my daughter and proud of it."
This year marks the 30th anniversary of TED, a forum that brings together thought-leaders to share ideas on how to change the world. This year's theme, "The Next Chapter," focuses on the greatest developments of the past three decades, and how that knowledge informs what the future holds.
Malala, who is still a target of the Taliban, couldn't make it to the conference, according to the Vancouver Sun. Yousafzai talked about his daughter's determination to succeed despite the Taliban's threats -- she is currently continuing her education in England -- and how Malala's story could potentially rewrite the narrative for millions of subjugated women.
"This plight of millions of women could be changed if women and men think differently," Yousafzai said. "If they can break a few norms of family and society, if they can abolish the discriminatory laws of the systems in their states that go against basic human rights of the women."
Across the globe, 31 million girls are not enrolled in school. Depriving girls of learning, experts have found, can have fatal consequences. According to UNESCO, for example, a child born to a mother who can read is 50 percent more likely to survive past age 5.
But Malala's story of triumph is proof of just how much potential girls everywhere hold.
In 2007, she started a campaign in Swat, Pakistan, for girls' education and women's rights, despite the fact that the Taliban had outlawed education for women and girls. Two years later, she put herself at further risk by blogging for CNN about her mission, her dad said in his speech. Malala's crusade was hurled into the international spotlight when the Taliban shot her in 2012 while she was on her way home from school.
Today, Malala is pursuing her own studies while fighting for girls worldwide through the Malala Fund, an organization that partners with local groups to bring education to girls.
But, advocates say that the only way to successfully make education accessible to everyone is by joining together both female activists, like Malala, and progressive men, like her father, who are willing to stand up against those who oppress women.
"The question remains, how do we encourage more men to be advocates for the women in their lives? To be gentle, kind and supportive. To refuse to conform to stereotypes and to liberate themselves and their women from the shackles of patriarchy?" Shiza Shahid, CEO and co-founder of the Malala Fund, wrote in a blog for The Huffington Post. "While we have a long way to go, creating powerful spokespersons for the cause, like Ziauddin, is certainly the start."