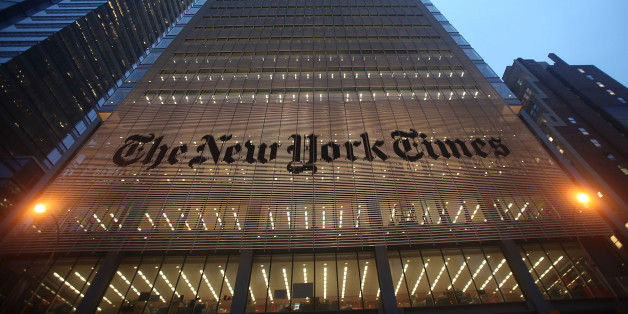 Margaret Sullivan is at it again.
The public editor of the New York Times criticized the newspaper on Tuesday over the use of anonymous quotes. In a new feature called "AnonyWatch," Sullivan scrutinized "some of the more regrettable examples of anonymous quotations in The Times."
In response to a column that cites a "Democratic insider" insulting Andrew Cuomo, she wrote, "Whoa! How does that square with The Times's clear written rule not to smear people anonymously?" She also asked managing editor Dean Baquet to comment on the two examples of anonymous quotes she cited. He told her that the Times shouldn't have used those quotes.
The feature earned Sullivan words of praise on Tuesday, with Glenn Greenwald calling her "best public editor ever." Others said:
.@Sulliview announces she will track anonymous quotes in the @NYTimes, and I announce my affection for her great work http://t.co/cGfRhH2do5

— Ren LaForme (@itsren) March 18, 2014
Stellar @nytimes public editor: MT @Sulliview my new feature: 'AnonyWatch': Tracking Nameless Quotations in NYT http://t.co/nX7SvRXinE

— Alex Howard (@digiphile) March 18, 2014
Senior sources in the media industry love @Sulliview's excellent new feature AnonyWatch:Tracking Nameless Quotations http://t.co/tAauDDd18b"

— Tracy Corrigan (@tracycorrigan) March 18, 2014
I like it RT @ceodonovan: .@Sulliview steppin' up http://t.co/1JLMB95JN3

— Joseph Lichterman (@ylichterman) March 18, 2014
Sullivan has written about anonymous quotes — which Times reporter Eric Schmitt once told her was the "no. 1 complaint" from readers — before. Last year, for example, she responded to readers' concerns about anonymous sources on possible weapons in Syria, and discussed what she felt was a "disconnect" between readers and journalists on when anonymous quotes are useful and when they are not.
BEFORE YOU GO
PHOTO GALLERY
New York Times