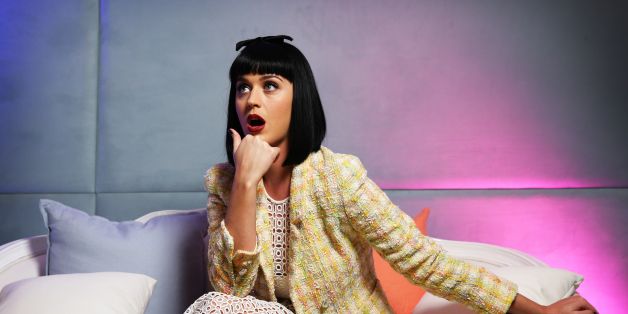 Middlebrow is a recap of the week in entertainment, celebrity and television news that provides a comprehensive look at the state of pop culture. From the rock bottom to highfalutin, Middlebrow is your accessible guidebook to the world of entertainment. Sign up to receive it in your inbox here.

In recent interview with Australian morning show "I Wake Up With Today," Katy Perry strapped on her Chanel suspenders and declared that she has finally become a feminist. "A feminist? Uh, yeah, actually," she said. "I used to not really understand what that word meant, and now that I do, it just means that I love myself as a female and I also love men."
This, of course, is a fanciful (and wrong) definition of feminism, which is emblematic of something beyond Perry's apparent lexical confusion. Her overeager desire to suddenly align herself with the "f-word" is indicative of the problems associated with invoking feminism so frivolously (read: literally without even knowing what it means).
Back in 2012, Katy Perry was not a feminist (or so she told Billboard). In the past two years, however, many a famous lady has been on a crusade to defeat the once profoundly stigmatized word. In the past year alone, Beyonce, Miley Cyrus and even Courtney Stodden have declared themselves feminists. Cyrus, for her part, claimed she was "one of the biggest feminists in the world." The word, once scorned, has now gained such traction that there is concern it has gone so far as to become "trendy."
It'd be wrong to exclude celebrity feminists, by saying they are "hurting" the movement. Perhaps a more accurate way to put it, then, is that celebrity feminists often execute feminism in an imperfect manner. Consider J.Lo's recent video for "I Luh Ya Papi". As an attempted takedown of sexism, it showcases a world where the women call the shots -- there's a bedroom scene with "naked men around for no reason" -- but ends up with J.Lo's "Papi" rapping, whilst using women in leopard print bikinis as furniture. As Emma Gray of Huff PostWomen put it, despite J.Lo's best efforts, ultimately the video ended up making reverse objectification appear absurd, while employing women as props felt like more of the same. But there is certainly something positive in J.Lo's awareness of the double standards in the music industry, even if her critique was flawed.
As feminism edges further into the sphere of celebrity acceptability, it will become easier -- and perhaps eventually seem required -- for stars to identify themselves as feminists. But there may be some danger in Katy Perry aligning herself with feminism as easily as she pulled on those unnecessary suspenders. As Callie Beusman of Jezebel wrote: that kind of "trendy" feminism would have to exist alongside all of the patriarchal structures it's challenging (and we ought to be wary of things being sold or a pop star being made more popular under the guise of disingenuous feminism).
Yet, beneath that accurate cynicism, there is an indisputable glimmer of hope in the fact the stigmatization of the "f-word" is (at least) starting to disintegrate. Sure, there will be more failed attempts at inverting sexism, misguided campaigns to ban lady adjectives, and misinformation that will leave some poor girls in Australia thinking they're fighting for women's rights by "also [loving] men." But at least the very word has stopped scaring people off in the first place. With growing awareness, especially from highly visible pop stars, there will be more space than ever for the discourse of real change. In the meantime, maybe the next step is sending everyone in Hollywood a solid copy of the dictionary.
Everything Else You Need To Know:
Follow Lauren Duca on Twitter: https://twitter.com/laurenduca
BEFORE YOU GO
PHOTO GALLERY
Katy Perry's Style Evolution