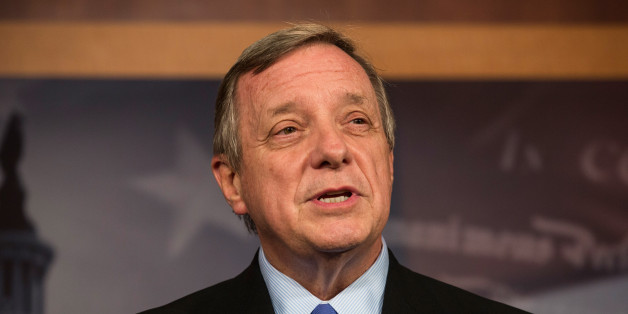 U.S. senators are hardly flinching at the news of Russian President Vladimir Putin's expected sanctions against American officials, with a few even embracing it.
"My Lithuanian-born mother would be proud her son made Vladimir Putin's American enemies list," Senate Majority Whip Dick Durbin (D-Ill.) told the Daily Beast in a statement he also tweeted Monday.
Sanctioned lawmakers and officials would be banned from visiting Russia and subject to an asset freeze in the Russian Federation.
Sen. John McCain (R-Ariz.) said he would be "honored" to be included on the list and joked to the Daily Beast, "I guess I'm going to have to try to withdraw my money from my secret account in St. Petersburg."
Putin's anticipated move is viewed as political tit-for-tat following President Obama's new sanctions against key Russian officials in response to Russian military aggression in Ukraine.
"We are imposing sanctions on specific individuals responsible for undermining the sovereignty, territorial integrity and government of Ukraine," President Obama said when announcing the sanctions Monday. "We're making it clear that there are consequences for their actions."
Durbin, who previously likened Putin's tactics to those of a "bully," was among the authors of a recent resolution condemning Russia's military aggression in Ukraine.
After Obama's 90-minute phone call with Putin earlier this month, Durbin told members of Chicago's Ukrainian community that Secretary of State John Kerry told him the call was "ominous, worrisome," BuzzFeed reported. Durbin added, "There were no commitments made by Putin."
According to Business Insider, Putin may release the names of those on his "enemies list" on Tuesday.
BEFORE YOU GO
PHOTO GALLERY
How Tensions In Ukraine Became So High