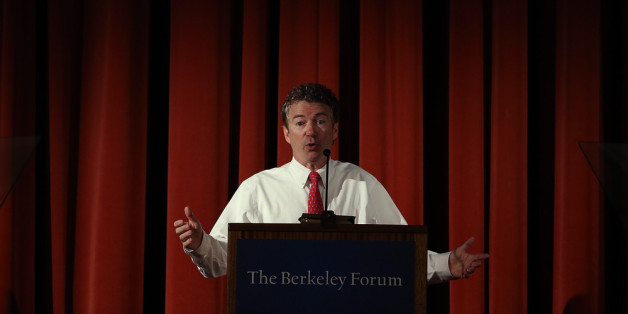 Though Sen. Rand Paul (R-Ky.) has said that the odds of him running for president are "probably 50-50," supporters and analysts have long considered him a GOP frontrunner. On Tuesday, his home state of Kentucky even passed a bill allowing lawmakers to run for two offices simultaneously, clearing the way for both Senate and presidential runs for Paul.
But on Wednesday, at a press conference following a spirited address at University of California, Berkeley, Paul said an announcement on his decision "won't be before the elections in 2014."
Paul was visiting the university to deliver an address on perceived abuses by the National Security Agency's government spying programs, during which he proposed the creation of a bipartisan congressional committee to investigate the allegations. Vocal Paul supporters filled the 400-person crowd, which sold out the school's auditorium.
When asked by the moderator if he was visiting typically left-leaning schools like UC Berkeley and Howard University to appeal to liberals in preparation for a presidential run, Paul smiled and replied, "Maybe," drawing laughter and cheers from the crowd. Paul then steered the conversation away from his potential run towards his efforts to reform the Republican Party.
"Remember when Domino's finally admitted it had bad crust?" he asked, referring to the pizza chain's ad campaign. "I think the Republican Party finally admitted it. OK, bad crust; we need a different kind of party."
He later elaborated.
"I want to show that the Republican message can be taken to new audiences that haven't previously maybe been as open to that message," he said. "Parts of the Republican message -- sort of the Libertarian or liberty message -- actually coincide with some of the progressives on the left, so we have some things in common."
Paul also responded to questions about his proposed flat tax, minimum wage increases and his opinion on Edward Snowden, about whom he said he had "mixed emotions." He steered widely clear, however, of social issues, such as his stance on abortion and same-sex marriage.
When asked by a reporter if the diversion from social issues was intentional due to the liberal location, Paul replied, "I try to talk about the most current events of the day, and I think the most current event of the day is the oversight of the intelligence community."
BEFORE YOU GO
PHOTO GALLERY
Senate Seats Up For Grabs In 2014