The term "ruin porn" has become ubiquitous on social media, blogs and Reddit subgroups everywhere, denoting amateur and professional photographs that capture the built-environment in decline. The two words so easily hashtagged have incited awe and anguish from both admirers who enjoy living vicariously through the lens of daring adventurers and critics who lament the fetishization of economic downturns in cities like Detroit, Michigan.
We could speculate for days as to why the people of the internet -- not just urban explorers -- are drawn to the abandoned beauty of decay. "The voyeurism [of ruin porn] isn't just gawking at the old buildings; it's gawking at the possibility and the danger of death," Kyla Chayka surmised on Hyperallergic. "Ruins don't make you think of the past, they direct you toward the future. The effect is almost prophetic. This is what the future will end up like," Mark Binelli of The New York Times mused.
Moran, Texas (via busydane on reddit)
But perhaps The Atlantic's Joann Greco is the most concise: "Pursuing and photographing the old is an addictive hobby." To put it simply, humans have been seeking out and documenting ruins since Renaissance-era painters began memorializing the remains of antiquity. Proof: Tate Britain's exhibition "Ruin Lust," an overview of art history's torrid love affair with picturesque destruction.
The exhibition begins a little later than the Renaissance -- in the 17th century, to be exact -- featuring works from artists like J.M.W. Turner and John Constable, painters who trekked throughout Britain looking for decay to render. Running through Gustav Dore's illustrations, Paul Nash's surreal landscapes and Rachel Whiteread's contemporary visions, the collected works give a visual history of art's abstract and disjointed interpretation of the tradition of urban exploration. It veers from the decay of architecture, to the death of Kodak film or the publishing industry, encapsulating all things memento mori.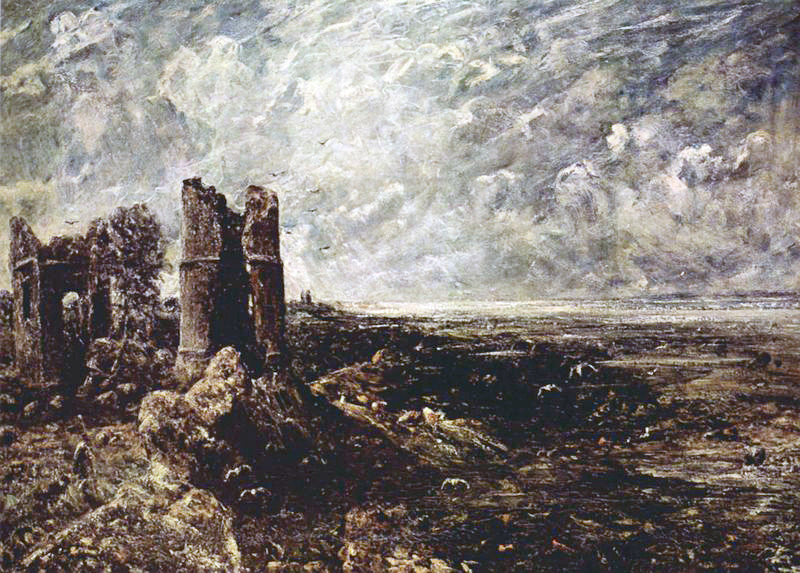 John Constable, Hadleigh Castle, c.1828-9 (via Wikimedia)
While the works of art are a far cry from the filtered imagery that fills your Instagram feeds, the academic curation of yesteryear's ruin porn sheds light on a theme that connects your computer screen with museum walls -- humanity's deep desire to connect with the past. You might not be able to reconcile the effect that a fetish for contemporary decay has on cities trying to survive, but the exhibition proves that insatiable ruin lust has a storied past.
Check out a preview of the exhibition for a mini tour through the ages of ruin porn below:
"Ruin Lust" will be on view from March 4 to May 18, 2014 at Tate Britain.