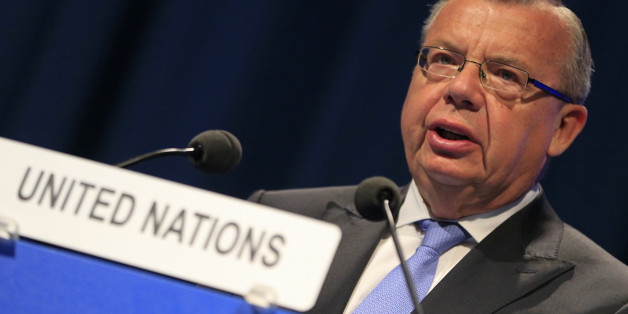 The United Nations continues to chastise Uruguay for legalizing weed, even as it praises a country that has been condemned by human rights organizations for punishing drug offenses with the death penalty.
The head of the U.N. Office on Drugs and Crime, Yury Fedotov, lauded Iran for its drug suppression efforts last week, despite criticisms from human rights organizations over its heavy handed anti-drug policies.
Though Fedotov said the U.N. opposes using the death penalty to punish drug crimes, he said "Iran takes a very active role to fight against illicit drugs," calling the government's seizure of 388 metric tons of opium "very impressive," according to Reuters.
Amnesty International, a human rights group that opposes the death penalty, said it recorded a spike in executions in Iran at the beginning of this year, tallying 40 in the month of January. Most of those executions were carried out to punish drug-related offenses, according to Amnesty.
"In Iran drug-related offenses are tried in Revolutionary Courts which routinely fall far short of international fair trial standards," Amnesty International's Deputy Director for the Middle East and North Africa Hassiba Hadj Sahraoui said in January in a press release. "The reality in Iran is that people are being ruthlessly sentenced to death after unfair trials, and this is unacceptable."
Fedotov had more critical words for Uruguay, which passed a historic law last year to legalize the government-controlled production and sale of weed to registered users.
"Leglization won't solve the drug problem," Fedotov said last week, according to Argentine daily La Nación.
The U.N. official says Uruguay's law isn't compatible with existing international agreements on drug control, Reuters reports. He went on to portray Uruguay's trailblazing law as an isolated experiment.
"So far I don't see any other countries, or group of countries, that may follow the route which has been taken by Uruguay," Fedotov said, according to Reuters. "It is hard to say but I don't see a trend now, today."
Uruguay's reform has sparked debate about marijuana prohibition in several neighboring countries, though none have considered legislation as far-reaching as Uruguay's. The head of Argentina's anti-drug agency called for a national debate its own marijuana policy following the passage of the Uruguayan law, while Mexico City is considering citywide legislation similar to Uruguay's. The U.S. states of Colorado and Washington voted to legalize marijuana for recreational use last year in November, prior to the Uruguayan law.
Fedotov's comments come on the heels of repeated attacks against Uruguay's marijuana law from the International Narcotics Control Board, a U.N. panel. The INCB's head Raymond Yans said earlier this month that Uruguay's legalization of marijuana marks "a dangerous tendency." In the introduction to the panel's annual report this year, Yans intimated that legalizing weed could exacerbate the problem of drug trafficking, writing: "Drug traffickers will choose the path of least resistance; so, it is essential that global efforts to tackle the drug problem are unified."
Uruguayan President José Mujica has taken the opposite view, arguing that legalizing marijuana will sap traffickers of the profits they earn.
Mujica was nominated this year for a Nobel Peace Prize.
BEFORE YOU GO
PHOTO GALLERY
Quotes From Uruguay's Weed-Legalizing Prez