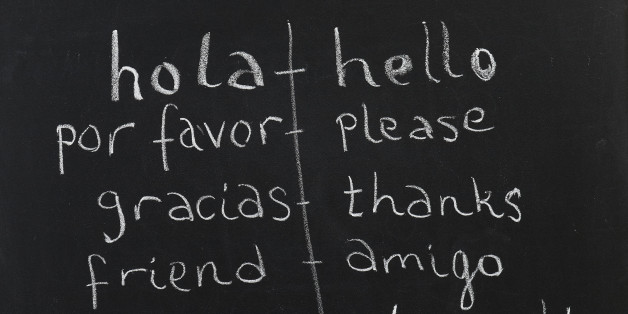 A principal who allegedly prohibited students from speaking Spanish will lose her job, the Texas press reports.
Administrators voted Monday night to discontinue a job contract for Amy Lacey, principal of Hempstead Middle School, who had been on paid administrative leave since December after reportedly using the intercom to tell students that speaking Spanish is forbidden on school grounds.
The episode sparked a controversy in the majority-Hispanic school, where several students speak Spanish as a first language.
"When you start banning aspects of ethnicity or cultural identity, it sends the message that the child is not wanted," Augstin Pinedo, director of the League of United Latin American Citizens Region 18 told the Houston Chronicle. "'We don't want your color. We don't want your kind.' They tend to drop out early."
One student told a local broadcaster that Lacey's announcement had discouraged students from speaking Spanish for fear of punishment.
"People don't want to speak it [Spanish] no more and don't want to get caught speaking it because they'll get in trouble," 6th grade student Kiara Lozano told KHOU.
Others supported Lacey's decision to ban the language from the school's grounds, fearing that Spanish-speakers may use the language to make fun of students who couldn't understand what they were saying.
"I support the principal," parent Jaime Cavendar said, according to KHOU. "I really believe she did the right thing. My children don't know if they're being talked about or being made fun of."
A series of crimes followed the decision to place Lacey on administrative leave, raising concerns that some people angered by her suspension were targeting Hispanics, the Houston Chronicle reports. The district's superintendent, Delma Flores-Smith, told the paper she worried for her safety after seeing strangers photograph her house. She says her yard was vandalized and someone went through her trash.
Last month, three suspects captured by surveillance video cut the brake lines on three school buses and left a dead cat in front of one of them. Two of the buses started their routes before the damage was discovered, but no one was hurt in the incident, according to KHOU. The incident occurred the morning after a heated school board meeting at which Lacey's suspension was discussed, the Houston Chronicle reports.
The Mexican American Legal Defense Fund and LULAC have called for a civil rights investigation, the Chronicle reports.
Hempstead Middle School's student body is 55 percent Hispanic, according to the National Center for Education Statistics. Hispanics make up a more than half of Texas public school students.
The school lies in the small town of Hempstead northwest of Houston.
Despite the tension, some students remained unfazed.
"I'm not scared, because I'm going to keep on speaking my language," 8th grade student Yedhany Gallegos told KHOU. "I mean, that's my first language and I'm going to keep on doing it."
BEFORE YOU GO
PHOTO GALLERY
17 Reasons Every American Should Learn Spanish