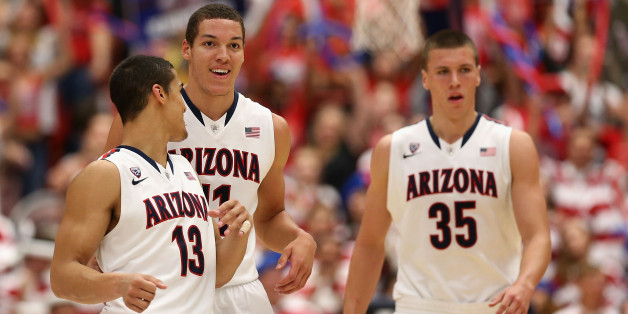 Sean Miller's Arizona club has lived up to enormous preseason expectations, thanks in large part to blue-chip recruit Aaron Gordon. Boasting impressive wins against Duke and Michigan, the Wildcats are hoping for their first title since 1997.
The 30-4 Wildcats took a huge hit when talented forward Brandon Ashley was lost for the season in early February. Ashley, although less heralded than Gordon, provided the Wildcats with a nastiness in the paint that has been missing ever since. Nevertheless, Gordon and 7-foot freshman center Kaleb Tarczewski are both superb in the paint with put-back opportunities and as rim protectors. As a whole, this is still one of the best defensive teams in the country.
The real linchpin for Arizona's offensive success is junior point guard T.J. McConnell, a Duquesne transfer. In his first season with the Cats, McConnell has displayed his skills as the purest of lead guards, a true facilitator with a stellar 3.0 assists-to-turnover ratio. His ability to penetrate and run pick-and-roll creates many of Arizona's best offensive looks.
If teams can limit his penetration and playmaking, the offense gets significantly reduced, because of how much Gordon and Tarczewski rely on him. Opponents also have to find a way to limit Wildcats' go-to scorer, Pac-12 Player of the Year Nick Johnson, an explosive junior guard who excels in transition.
Email me at jordan.schultz@huffingtonpost.com or ask me questions about anything sports-related at @Schultz_Report and follow me on Instagram @Schultz_Report. Also, be sure and catch my NBC Sports Radio show, Kup and Schultz, which airs Sunday mornings from 9-12 ET, right here.
BEFORE YOU GO