A bar located in Clemson, S.C., is getting torn apart online after it asked customers not to carry concealed weapons into the establishment during one of the biggest drinking holidays of the year.
The backlash came after a photo circulated on Twitter of a sign hanging in Backstreets Pub and Grill on St. Patrick's day:
Check out this sign hanging at a #Clemson, #SC pub!! #fineprint #concealedweapons pic.twitter.com/lkuDWppwyT

— Cody Alcorn (@CodyAlcorn) March 18, 2014
The sign, which told customers in no uncertain terms that concealed weapons were banned, swiftly drew the ire of gun enthusiasts across social media. Like this guy:
@BackstreetsPub LOOKS LIKE YOU WILL BE GOING OUT OF BUSINESS SOON COMMIE LMAO

— The SLID3L (@MrSLIDEL) March 18, 2014
Critics have been especially vocal on Yelp, a popular review site, even driving down the restaurant's rating to one and half stars in just a few days, according to Gawker.
The reviews have not only criticized Backstreets' concealed weapon ban, but also criticized its food and customer service, despite many of the reviewers being located many hundreds of miles away from the bar's location: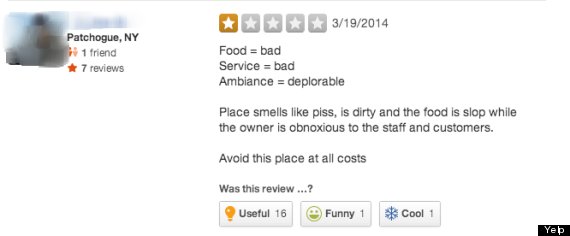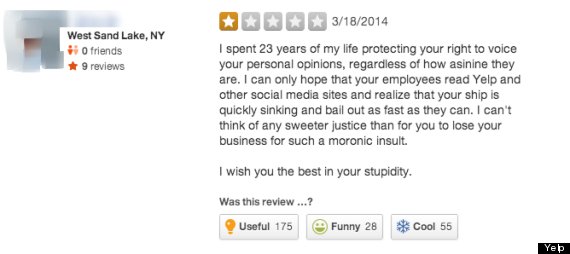 Backstreets' Facebook has been taken down following a spate of negative posts and reviews. One said he will still "carry everywhere I go and your establishment will not differ," according to a cached version of the page Gawker linked to.
The owner of the pub, who identified himself simply as Pete, told the Washington Times that he "was sorry I used that language," but stands by his decision.
Bars in South Carolina are allowed by law to post signs banning concealed weapons. If they do not, customers have the right to carry a concealed weapon if they don't drink.
"Sorry, but I'm not sorry," a post on Backstreets' Facebook page read prior to being taken down. "If you feel the need to bring a gun into a college bar you are a douche bag. And if you're drinking than you are violating the law."
Not everyone is outraged by Backstreets' decision to ban concealed weapons. Some have even expressed their support for the stance.
"The owner has guts," wrote one Yelp user. "You have a right to a gun, but everybody has the right to feel safe and conduct business however they want with however strong of worded speech they want."