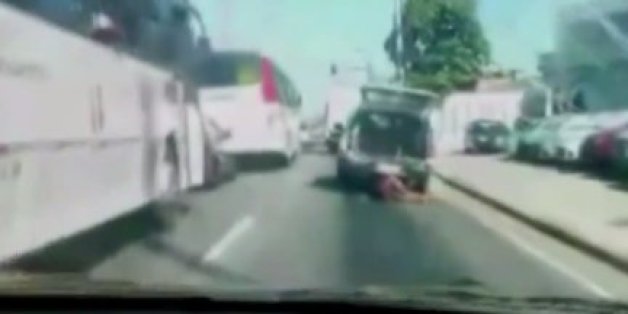 After surviving a shootout, a Brazilian woman was victim to another horrific incident that has left her nation shocked.
On March 15, Claudia da Silva Ferreira, 38, was hit by a bullet during a shootout between police and a local gang in the slums of Rio de Janeiro, the BBC reports. When authorities were transporting her to a local hospital, she fell out of the back of a police vehicle and was dragged for nearly 1,000 feet. The mother of four died upon arrival at the hospital.
A driver behind the SUV caught the grisly event on video, which appears to show officers throwing the injured woman back into the car at a red light.
In an interview with Brazilian newspaper O Globo, Ferreira's daughter expressed her anger over how the police treated her mother.
"One [police officer] grabbed her by the pant leg the other by her leg and threw her into the [vehicle], just in there whatever which way. She was all twisted in there," Thais Lima told the news outlet, according to a Huffington Post translation of the report.
As news of the tragic incident made national headlines, Brazilian President Dilma Rousseff took to Twitter to say "Claudia's death shocked the country." "At this time of sadness and pain, I offer my solidarity to the family and friends of Claudia," she added in a subsequent message.
A morte de Claudia chocou o país.

— Dilma Rousseff (@dilmabr) March 18, 2014
Nessa hora de tristeza e dor, presto a minha solidariedade à família e amigos de Cláudia.

— Dilma Rousseff (@dilmabr) March 18, 2014
Three officers were arrested for "disciplinary transgression" and may face additional charges from a separate investigation, according to The Wall Street Journal.
WARNING: The following video contains graphic footage.