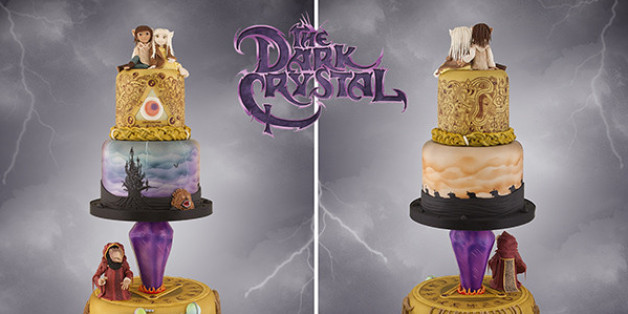 If you had somewhat of a normal (read bizarre) childhood in the '90s, chances are you were raised with some of the best fantasy movies -- like The Dark Crystal. For all of you who get giddy (and slightly terrified) when remembering this great film, we have found the birthday cake you always wanted but we're not nearly creative enough to dream up: The Dark Crystal Cake!
The Dark Crystal Cake has been created in five layers of total awesomeness, complete with Jen, a Skeksis, and a crystal layer.
We are forever grateful to the creativity of Jim Henson and the wild design of Brian Froud for this film that has in some ways made us -- children of the '90s -- the people who we are today. But an even greater thanks goes to the Little Cherry Cake Company -- maker of amazing cakes -- for creating this cake of our dreams and flooding us with the best of memories from our adolescence. (Also, wouldn't it be completely awesome to eat a Skeksis?) Check it out in all its glory below.
PHOTO GALLERY
Dark Crystal Cake
BEFORE YOU GO
PHOTO GALLERY
A Christmas Feast Made Of Cake