Much of the buzz surrounding Terrence McNally's "Mothers and Sons" focuses on the show's portrayal of a legally married gay couple with a child -- a Broadway first.
That description, while apt, is also bit oversimplified, given that the comedy-drama, which opens March 24 at New York's Golden Theatre, goes beyond marriage equality in examining homosexuality and same-sex unions as perceived by characters representing four different generations.
Set in present-day Manhattan, "Mothers and Sons" sees Katharine (played by Tyne Daly) dropping by the Upper West Side apartment of Cal (Frederick Weller), the former boyfriend of her son Andre, who died of complications related to AIDS. Much to her dismay, the uber-conservative Katharine discovers that Cal is now married to Will (Bobby Steggert), a man 15 years his junior. Together, the couple is raising their 6-year-old son (Grayson Taylor).
Bobby Steggert, Grayson Taylor, Frederick Weller, Terrence McNally and Tyne Daly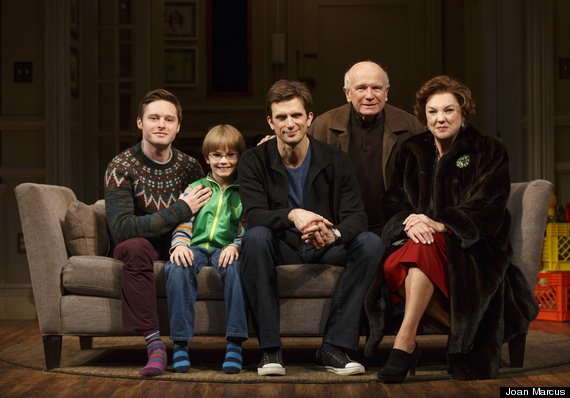 Overall, "Mothers and Sons" is a standout entry in an exciting Broadway season which sees queer themes explored in a number of high-profile shows, including "If/Then," "Hedwig and the Angry Inch," "Cabaret," and Harvey Fierstein's "Casa Valentina." Although the play features characters and expands on themes introduced in his short 1988 play "Andre's Mother," McNally told The Huffington Post he doesn't think of "Mothers and Sons" as a traditional sequel.
"I wanted to write a play that explored the enormous change in our society," McNally said. He pointed to "Andre's Mother" as an "incubator" rather than a predecessor for the new show. "This is another definition of family. It's not just in the gay world; the heterosexual world has to deal with this as a new reality."
The idea of a "new reality" resonated deeply with the show's cast and crew, particularly producer Tom Kirdahy (who is also McNally's husband) and director Sheryl Kaller. Having previously helmed "Next Fall," a 2010 play depicting an embattled relationship between two gay men, Kaller said she was most interested in the bond Cal and Will share with their child, contrasted with Katharine's bereavement over the loss of her own son.
"You don't have to take a test to be a parent, unfortunately, but you should be evolved, smart and honest enough to raise your children in a world where they can embrace change," she said. "What your sex is and who you have sex with should be irrelevant."
McNally said he wrote the play, which premiered at Pennsylvania's Bucks County Playhouse in June 2013, with both Daly and Steggert already in mind for their respective roles. While the far-right Katharine couldn't be further from Daly, who appeared at the Democratic National Convention in 2012 and has backed same-sex marriage, the Emmy and Tony award-winning actress described her character as someone who "was brought up with fear, ignorance and prejudices that were based on not knowing."
"My job is not to judge her. My job is to play her and believe in her," Daly, who also starred in the 2011 revival of McNally's "Master Class," said. "She's a woman who's stuck 25 years in the past, when she experienced her big loss. The depth of her sadness is possibly what I identified with the most. Not that I had a similar situation -- I loved being a pregnant lady and I loved having kids -- but to have had a loveless marriage, and have the product of that marriage be a lone kid who was loaded with so many expectations and so much need … it sort of kills me."
Steggert and Waller in an emotional scene.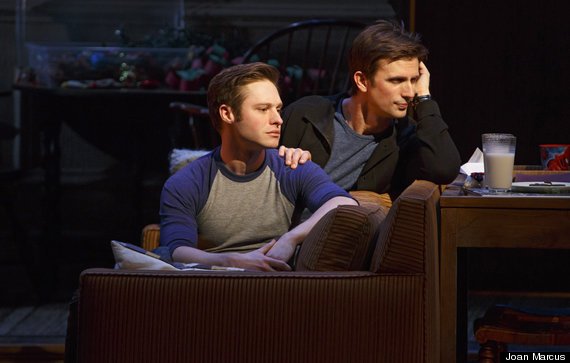 Steggert, who starred in last fall's "Big Fish" and nabbed a Tony nomination for the 2009 revival of "Ragtime," felt similarly, calling the role "a really easy and delightful fit." Although McNally has been at the forefront of tackling gay issues theatrically, Steggert emphasized that the playwright "ultimately writes from the emotional center of a character."
"The entire play is about the hope in evolution," he added.
In addition to the play's groundbreaking portrayal of marriage equality, both Kirdahy and Kaller hope that "Mothers and Sons" stands as a heartfelt testament to a generation of gay men who survived the HIV/AIDS crisis of the 1980s.
"With all of the marriage equality victories that we're having, there has been a backlash," Kirdahy, who tied the knot with McNally in 2010, said. "[Terrence and I] have spent our lives fighting for equality and for the lives of others, but it comes from a place of passionate conviction, and I think we have to remind ourselves that this struggle isn't over. Our victories didn't happen in a vacuum … [HIV/AIDS activists] were foot soldiers, and it's important that those souls be remembered."
Kaller added, "We have an abundance of Holocaust movies; we've had AIDS plays and movies. But what about the stories of the men who survived the crisis and moved on? We cannot let [them] be a footnote."
"Mothers and Sons," which is currently in previews, opens March 24 at New York's Golden Theatre. Check here for more information.
BEFORE YOU GO
PHOTO GALLERY
"Mothers And Sons" On Broadway