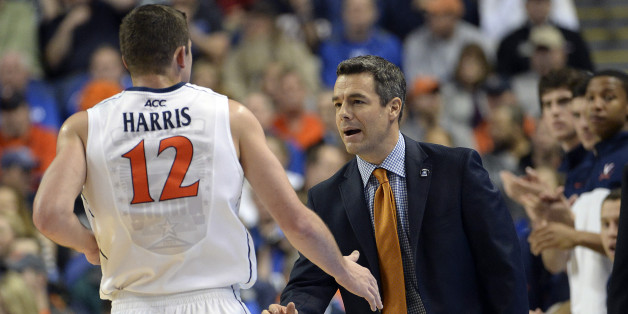 We don't think of Virginia as a hoops powerhouse -- this is its first No. 1 seed since 1983 -- but with head coach Tony Bennett, we probably should. UVA, the winner of the ACC regular season and conference tournament, gets it done with one of the nation's premier defenses.
Balance is the key word for this team, on both sides of the floor. Defensively, UVA suffocates you with a vicious man-to-man that doesn't get beat often. Help side is always there, but usually not needed. The Cavs have allowed a mere two opponents to reach 70 points this season, and not since a December loss. Justin Anderson, a 6-foot-6 sophomore wing, is one of the true lockdown defensive artists in the game today, a versatile wing defender capable of guarding three positions.
Where Bennett's team is vulnerable, however, is on the offensive side of the ball. Joe Harris is a strong senior shooting guard who averages nearly 12 points per game on 41 percent shooting from deep, and Malcolm Brogdon, another big guard at 6-foot-5, averages 13. But the Cavs lack a true go-to option in crunch time -- though six players average six points or better -- and they rank 294th in points scored. Now, to be fair, they play at a very deliberate and slow pace, maximizing possessions that rely on ball movement and screening. How you beat them is by forcing the tempo and scoring early in sets. Make Virginia play fast, or get lulled to sleep in a brutal slug-fest that the Wahoos will almost surely win every time.
Email me at jordan.schultz@huffingtonpost.com or ask me questions about anything sports-related at @Schultz_Report and follow me on Instagram @Schultz_Report. Also, be sure and catch my NBC Sports Radio show, Kup and Schultz, which airs Sunday mornings from 9-12 ET, right here.
BEFORE YOU GO