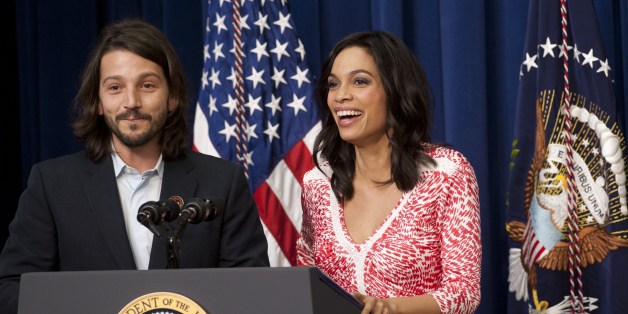 The White House screened the new Cesar Chavez biopic Wednesday night at an event with the filmmakers and activists in attendance.
President Obama introduced the film to the crowd of more than 100 people, offering words of praise for the labor leader who co-founded the United Farm Workers union.
Cesar himself said that he spent his first 20 years working as an organizer without a single major victory. But he never gave up. He kept on going, and the world is a better place because he did. And that's one of the great lessons of his life. You don't give up the fight no matter how long it takes. No matter how long the odds, you keep going, fueled by a simple creed -- sí, se puede.
The president didn't stay for the screening though he said he'd watch the film later with his family, according to Variety.
Director Diego Luna attended the event, along with the two leading actresses America Ferrera and Rosario Dawson. Chavez's fellow UFW union leader Dolores Huerta, who was awarded a Medal of Freedom by the White House in 2012, was also present.
"Cesar Chavez: An American Hero," which won an audience award at SXSW in Austin, Texas, premieres on March 28.
Watch the trailer for the film below.
BEFORE YOU GO
PHOTO GALLERY
Latino Rebels And Revolutionaries