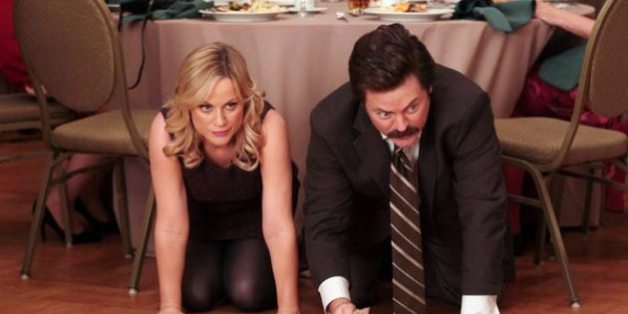 Ron and Leslie will never, ever get together, right? Wrong. They did make out once.
Okay ... so it was for a gag reel. But according to co-creator Mike Schur, we'll never get to see it.
"Nick and I do a scene just for the gag reel where Leslie and Ron make out!" Amy Poehler (Leslie) said at Paleyfest, according to Yahoo TV. Schur added, "And we never put it on the gag reel because it's super-disturbing. It's really unpleasant to watch. 'No no no no no no no!' It's like watching your parents go at it super-hard."
This isn't the first time Schur has expressed his disgust with the very idea of Leslie and Ron getting together.
"I know there are people who are Leslie and Ron 'shippers, as they say, but their relationship is so great as platonic friends without any hint of any interest in each other," he told E! in 2012. "It's like Lou Grant and Mary Tyler Moore. They will never date. We will never do that."
Message received, Schur.
"Parks And Rec" airs Thursday at 8:30 p.m. ET on NBC.
PHOTO GALLERY
'Parks and Recreation'
BEFORE YOU GO