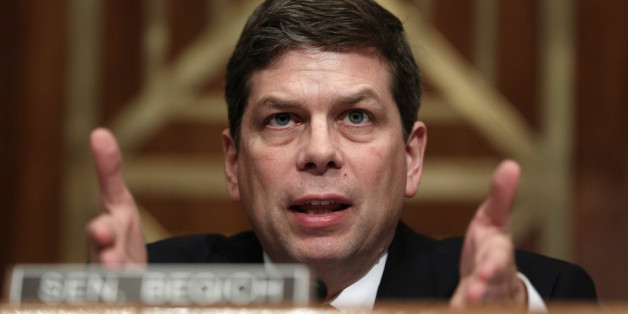 WASHINGTON -- The push to expand Social Security -- and the push back against attempts to cut it -- landed endorsements by a key progressive group Thursday for two Democratic senators facing GOP challenges.
The group Democracy for America, founded by Howard Dean and run by his brother James, is throwing its support behind Sens. Mark Begich of Alaska, and Jeff Merkley of Oregon.
Merkley is a logical choice for the group, which cites his efforts around Social Security, filibuster reform and the minimum wage. Begich would seem to be a less natural fit, but Democracy for America likes his stance on the social safety net. And it doesn't hurt that Begich has been targeted by billionaire oil tycoons David and Charles Koch -- archenemies of liberals.
Franco Caliz, Democracy for America's electoral campaigns manager, said in an announcement of the picks Thursday:
Look out: the Koch Brothers are setting up shop in the Last Frontier, and this time they have their eye on one of Alaska's own -- Senator Mark Begich.

Sen. Begich has always stood up for real Alaskan values in the Senate, pushing back against corporate special interests, protecting vital safety net programs and expanding health care coverage for working class Americans.

He was one of the first senators to throw his support behind expanding, not cutting, Social Security -- a fight DFA has been leading the charge on from the beginning. Working together, we convinced President Obama to drop all Social Security cuts from his new budget, guaranteeing a more financially secure future for thousands of Alaskan seniors.

We believe Washington needs the kind of progressive leadership Sen. Begich showed on Social Security -- and that's why we are endorsing him today.
Democracy for America said its 1.2 million members have raised some $5 million for candidates since it launched in 2004, and has helped elected 802 candidates.
In endorsing Merkley, Caliz said in the statement:
DFA's fight against income inequality has been Sen. Merkley's fight too: his belief in the need for fairer wages and a strong middle class led him to co-sponsor the Minimum Wage Fairness Act, which would raise the minimum wage to $10.10 an hour across the country. And recently he threw his support behind expanding Social Security, a policy that DFA has backed from the very beginning, which would make it easier for retired Americans to make ends meet.

Sen. Merkley's ability to show that kind of leadership on progressive priorities is why we wanted him in the Senate in the first place -- and why we are endorsing his re-election campaign today.
The group also is backing Sen. Brian Schatz (D) in Hawaii, and Democratic Senate challengers Shenna Bellow in Maine and Rick Weiland in South Dakota.

BEFORE YOU GO
PHOTO GALLERY
Senate Seats Up For Grabs In 2014