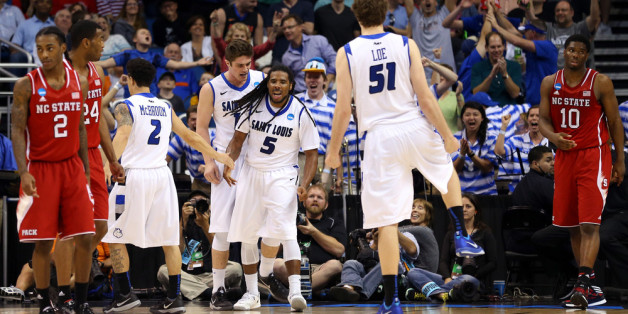 It's here! It's here! It's here! It's here! It's here! It's here! It's here! It's here!
The time to tweak your bracket is over because March Madness is about to hit full speed. The First Four is over and it's time for arguably the two best sports days of the year. The first 16-game slate of the round of 64 starts on Thursday with No. 6 Ohio State taking on No. 11 Dayton at 12:15 p.m. ET and wraps up with No. 4 San Diego State taking on No. 13 North Dakota State at approximately 9:57 p.m. ET.
Throughout all of the action, we'll be keeping you updated with the latest scores and highlights. Follow along with us here and tweet to @HuffPostSports if you want to join in the conversation.
And remember, we get 16 more games tomorrow! Scroll down for live March Madness updates:
03/21/2014 1:53 AM EDT
Amazing day. Four overtime games. Two 5-12 upsets. An 11-seed through. I love the NCAA tournament.

— Nicole Auerbach (@NicoleAuerbach) 5 years ago
03/21/2014 1:34 AM EDT
GAME OVER
San Diego State survives and advances, 73-69.
03/21/2014 1:34 AM EDT
3.2 Seconds Left
2nd free throw was good. San Diego State fouled to send Daniel Mullings to the line. He made the first foul shot and since they were down by 2 with 3.2 seconds left, he missed the 2nd on purpose to try and set up an offensive rebound and put-back. But San Diego State got the rebound with 1.9 seconds left. Now they are at the foul line.
03/21/2014 1:31 AM EDT
Another Timeout
Aztecs are in the double bonus and will shoot 2 free throws. 1st free throw... MISS. It's a one-possession game. Another timeout was called before the 2nd foul shot. It's 70-68 San Diego State.
03/21/2014 1:28 AM EDT
2-Point Game
New Mexico State got a quick layup with 8.2 seconds left to cut the lead to 2 and now will foul San Diego State to send them to the free throw line. But first, timeout.
03/21/2014 1:22 AM EDT
And One
After San Diego State went up by 4, New Mexico State's Tshilidzi Nephawe made a three-point play the hard way to cut the lead to 67-66 with 1:30 left.
03/21/2014 1:21 AM EDT
Dwayne Polee making grown man plays for SDSU. Aztecs lead by 5...til Dixon nails a three. Aztecs up 2.

— Seth Davis (@SethDavisHoops) 4 years ago
03/21/2014 1:20 AM EDT
Fouled Out
New Mexico State's 7-foot-5 center Sim Bhullar has fouled out. Aggies are down 63-60.
03/21/2014 1:18 AM EDT
SDSU
San Diego State takes a quick two-point lead and then gets a defensive rebound on the other end.
03/21/2014 1:16 AM EDT
CLUTCH
New Mexico State's Kevin Aronis came through in the clutch with a game-tying 3 in the final seconds. OVERTIME!