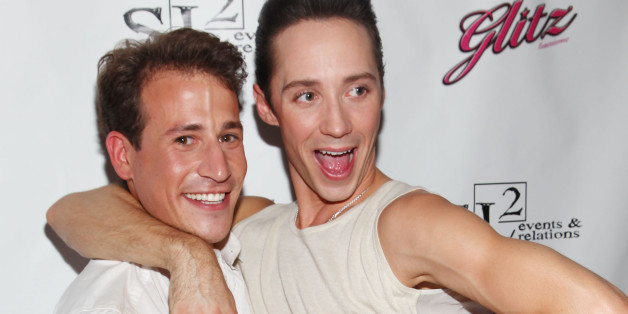 Johnny Weir made headlines yesterday after he confirmed on Twitter that he and his husband, Victor Weir-Voronov, had separated.
Now, however, Weir-Voronov is responding to his soon-to-be-ex-husband's remarks with a surprise claim of his own on Twitter. As it turns out, the news may have been in the works for a while.
Yes. I'd like to confirm, It's true: I am only now finding out that my husband @johnnygweir filed for divorce from me months ago.

— Victor Weir-Voronov (@Vweirvoronov) March 20, 2014
Yesterday afternoon, Weir-Voronov had noted:
Shocked by the abrupt ending of my marriage and am dealing with the trauma including multiple things I am just now becoming aware of...

— Victor Weir-Voronov (@Vweirvoronov) March 20, 2014
News of the split comes just weeks after Weir appeared in a New Jersey courtroom on charges of domestic violence against his husband of two years, according to Radar Online. At the time, Weir-Voronov alleged that Weir had bitten him during a dispute. The charges have since been dismissed.
Weir, who followed up his well-received 2014 Winter Olympics in Sochi commentary gig with a fashion-judging stint at the Oscars, had previously described his marriage as "constant fireworks."
"Being married is an adjustment and I'm such an OCD, solitary, confined person that it was very hard to open my life and my home and, in some ways, my closet to somebody else," he told Access Hollywood at the time. "We're both constantly trying to fight to wear the pants in the relationship."
Meanwhile, TMZ is reporting that the couple "had only seen each other 2 or 3 times in the past month" and that the final straw may have been a spat over delayed vacation plans.
Weir is expected to further address the split in a March 20 interview with Access Hollywood.
BEFORE YOU GO
PHOTO GALLERY
Celebrities Who Have Come Out As LGBT