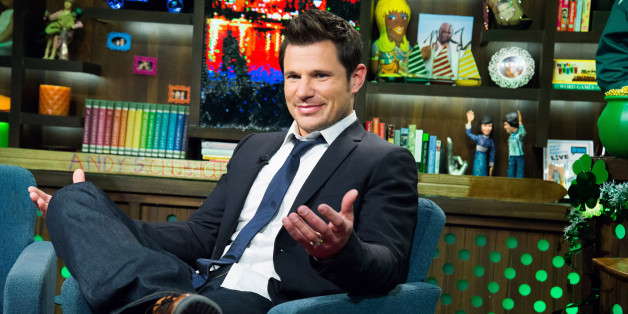 When deep-seated boy band rivalries bubble to the surface, it gets vicious. That came to light earlier this week when Andy Cohen prompted Nick Lachey to name the worst boy band of the '90s during a "Watch What Happens Live" appearance. He didn't hesitate to give 5ive that coveted honor.
To be fair, Cohen named 5ive first and Lachey agreed, but then Lachey went on to explain the "big-time beef" 98 Degrees had with the English quintet, whose success in the U.K. continued well after it had waned in the United States. (5ive is best known for the songs "Slam Dunk (Da Funk)," "When the Lights Go Out" and "Keep on Movin.")
"We were on the Smash Hits tour in the U.K. with a bunch of pop groups at the time, and 5ive, for whatever reason, just had it out for us," Lachey recalled. "So we used to battle every night."
But 5ive's Abz Love wasn't just going to let Lachey slip by with such comments. "98 Degrees sucked so hard," he said during a call to "TMZ Live." "To be fair, we were always looking for trouble. They just happened to be in the way."
Lachey addressed the conflict again on VH1's "Big Morning Buzz Live," a few days after the "Watch What Happens Live" slam. "It never came to blows, but we definitely didn't like each other," he said. "The bottom line is I feel like I started this firestorm and I feel badly about it, and now that I have a show where I have a platform I can set the record straight. Abz, I'm sorry; all the other members of 5ive, I'm sorry. I may have spoken out of turn. When asked who the worst band of the '90s was I said 5ive and that's absolutely not true. 5ive is actually the worst boy band of all time."
Guys, c'mon. We're really not all that different here. Take 98 Degrees' advice: "I know that we'll meet again / Fate has a place and time / So you can get on with your life."
Watch Lachey discuss 5ive on "WWHL":

Love's response on "TMZ Live":
Here's Lachey on "Big Morning Buzz Live":
BEFORE YOU GO
PHOTO GALLERY
Return Of The 90s: Pop Bands Reuniting