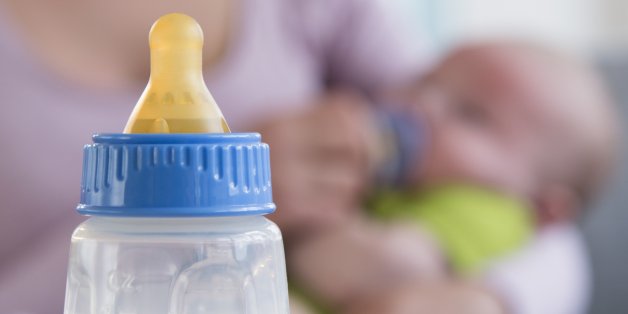 Walk into store. Purchase baby formula. That's how easy obtaining food for your baby should be. But that wasn't the case for a bottle-feeding mom in Australia, who was shamed for her choice by a store manager.
When Reannon Spencer went to Woolworths in Thurgoona, Australia, she didn't see any formula on the shelves. As Mamamia reports, she asked the store's manager why, and he didn't know. So she emailed headquarters.
"I did not receive any response. I then received a telephone call from manager of Baby, Formula and Needs on Friday 14th March," she explained in a Facebook post. He told her there wasn't a demand for formula and she should be breastfeeding anyway.
Spencer detailed what happened on her Facebook page:
Woolworths then replied to Spencer explaining that they do, in fact, support moms:
"Woolworths stocks a range of formula in its stores around Australia. We believe that mothers should be supported in their individual nutrition choices for their newborn children whether that be formula or breastfeeding."
Although one person's comment sparked the incident, it reflects a much bigger issue. Meredith Carroll of Babble chimed in, echoing an overall "over-this-nonsense" attitude others expressed many times before. "Being a mom is so freakin' hard -- the last thing we need are store clerks making it harder on us by not stocking their shelves with what we need and instead filling our heads with criticism that we don't," she said.
Thankfully, the conversation has already begun. Last year, a team of moms started collecting messages of support for both bottle and breastfeeding mothers, in the name of an "I Support You" campaign. (See them below and add your own.) Former HuffPost Parents columnist Lisa Belkin explained the message the behind the photos: "...We might lead different lives but we share wanting the best for our children in common," she wrote.
Spencer agrees. "I think being a parent is hard enough and we should not have to justify why we choose to bottle or breast feed it is what works best for baby and mum," she added.
We'll raise our bottle glass to that.
PHOTO GALLERY
I Support You
Get more from HuffPost Parents: Like us on Facebook. Follow us on Twitter. Send tips to parents(at)huffingtonpost(dot)com.