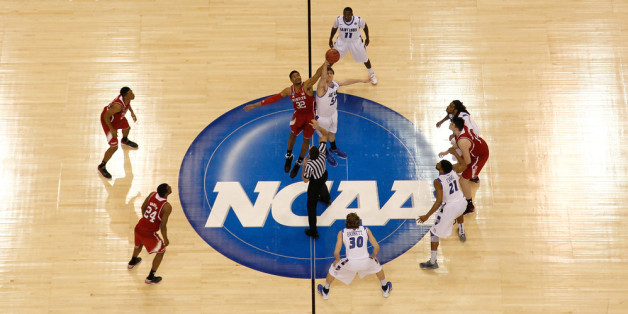 Let's do it all over again.
After a record-setting four games went into overtime during the first full day of games in the 2014 NCAA Tournament, the round of 64 continues on Friday with 16 more matchups.
The action begins on Friday with No. 3 Duke taking on No. 14 Mercer. As the games continue, three No. 1 seeds will take the court. No. 16 Albany couldn't upset No. 1 Florida on Thursday but three more sixteenth-seeded teams will have a chance to make history.
We'll be keeping you updated with the latest scores and highlights throughout all of the action. Follow along with us here and tweet to @HuffPostSports if you want to join in the conversation. Scroll down for live March Madness updates:
03/22/2014 1:22 AM EDT
FINAL
UCLA beats Tulsa 76-59 and will play SF Austin next.
03/22/2014 1:18 AM EDT
UCLA. .... Juice.

— Myron Medcalf (@MedcalfByESPN) 2 years ago
03/22/2014 1:18 AM EDT
Pulling Away
The Bruins look like they have this one wrapped up. They have a 74-56 lead with under a minute left.
03/22/2014 1:12 AM EDT
UCLA Leading
No. 4 UCLA leads No. 13 Tulsa 67-54 with under 4 minutes to go.
03/22/2014 1:10 AM EDT
The Georges Niang broken foot is such a tough blow for Iowa State, which, as Fred Hoiberg said, was playing as well as anyone in America.

— Eric Prisbell (@EricPrisbell) 1 year ago
03/22/2014 1:05 AM EDT
It's not over in San Diego. UCLA-Tulsa a 57-52 game on truTV with 5:35 to go.

— Eye on College BBall (@EyeOnCBB) 3 years ago
03/22/2014 12:49 AM EDT
UCLA Leads
No. 4 UCLA leads No. 13 Tulsa 49-38 with 11:21 left in the game.
03/22/2014 12:45 AM EDT
Wichita State-Kentucky game is at 2:45 ET on Sunday.

— Jeff Goodman (@GoodmanESPN) 5 years ago
03/22/2014 12:42 AM EDT
Georges Niang has a foot fracture and will miss the remainder of the season.

— Cyclone Basketball (@CycloneMBB) 4 years ago
03/22/2014 12:42 AM EDT
With a healthy Niang, Iowa State had a legit chance to go to Final Four.

— Jeff Goodman (@GoodmanESPN) 5 years ago