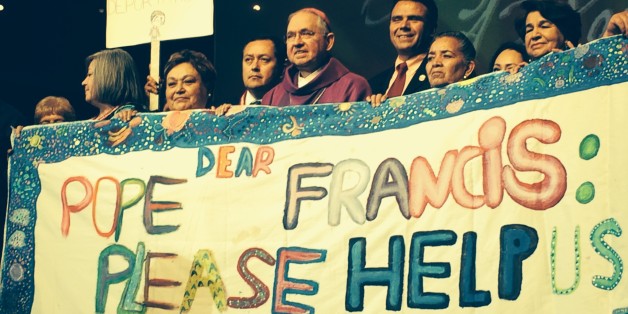 A group of immigration activists hopes Pope Francis will prod President Barack Obama into halting his record-setting pace of deportations.
A delegation of nearly 20 people from California will travel to the Vatican next week with the goal of meeting the pope and asking him to urge Obama to halt deportations. The two world leaders are scheduled to meet on March 27.
The effort to win the pope's favor comes as activists continue their pressure on the Obama administration to act unilaterally to halt deportations, in the absence of congressional action on immigration reform.
Juan Jose Gutierrez, the coordinator for the Full Rights for Immigrants Coalition that is organizing the trip, said the group plans to bring more than 1,000 letters to the pope, written by children of undocumented parents who have either been detained or deported.
Below: One of the letters from children of undocumented parents asking Pope Francis to urge President Barack Obama to halt deportations.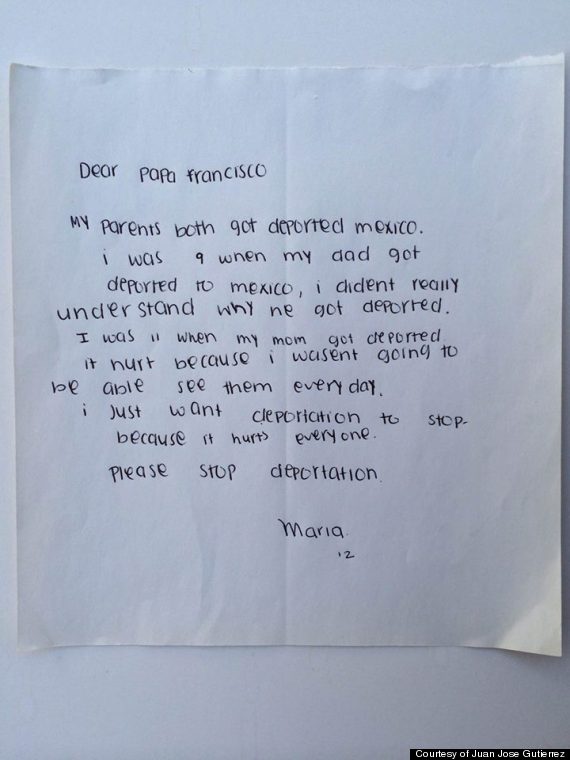 "We would like the pope to consider adding his moral support to the call on the president to halt mass arrest and deportations of undocumented immigrants that are tearing families apart," Gutierrez told The Huffington Post.
"He has said that he is supportive of bringing about the type of changes in the world that need to take place so that the rights of all the immigrants in this worldwide crisis are respected," Gutierrez added. "So I have every expectation that the pope will not be oblivious to the undocumented worker-student plight, and that he will find a moment to bring it up during his conversations with Barack Obama."
The archbishop of Los Angeles, José Gómez, blessed members of the group this week, asking God to help them as "they stand with the poor in their struggle for dignity and justice," according to the Orange County Register. "And guide us to reform our immigration policies; that our country may live up to its spiritual promises of liberty and justice for all," Gómez added.
The archdiocese is helping the group try to arrange a personal meeting with Pope Francis.
"It hasn't been confirmed," Monica Valencia, the Los Angeles archdiocese media director, told HuffPost. "The request has been made, but that's what they're hoping for."
Obama has deported more immigrants than any president in U.S. history. Under pressure from both activists and Hispanic political allies who criticize him for separating families, he announced a review of his deportation policies last week.
Pope Francis, who has built a reputation as a champion of the poor, has offered his support for the world's undocumented immigrants several times in the past.

"Migrants and refugees are not pawns on the chessboard of humanity," the pope said in September. "They are children, women and men who leave or who are forced to leave their homes for various reasons, who share a legitimate desire for knowing and having, but above all, for being more."
See more children's letters asking Pope Francis to help stop deportations in the slideshow below.
BEFORE YOU GO
PHOTO GALLERY
Children Ask Pope To Help Stop Deportations