Florida Gov. Rick Scott (R) attended a Thursday fundraiser, but not before some apparent drama with a group of protesters hoping for his attention.
The Pensacola News-Journal reported Thursday night that residents were fighting against plans to relocate city parole offices to an old Coca Cola plant area. Upon the arrival of Scott's unmarked SUV, they formed a wall to try to get his attention, but to no avail.
One resident claimed the SUV brushed up against his leg, and another said the vehicle moved on without any recognition of their presence.
"He could at least roll down the window and say, 'I understand your problem, and we will check on it,'" resident Patti Salvaggio told the paper. "You're here for our money, you're here for our votes and you almost run us over."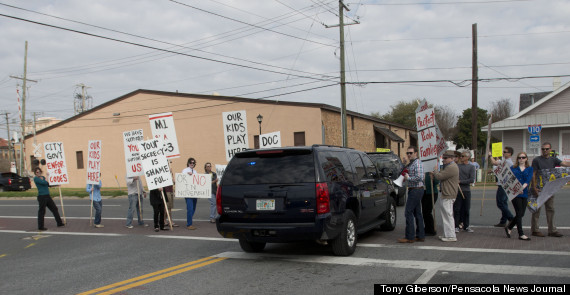 Used with permission, Pensacola News Journal/pnj.com, Copyright 2014
Two weeks earlier, the Miami Herald detailed how Scott faced similar fervor before a fundraiser in Coral Gables, where he was met by protesters voicing complaints on jobs, health care and public services.
"We want to properly welcome the Governor to Miami-Dade County, a metropolitan region with one of the greatest wealth inequality gaps in the nation," said Fred Frost, Vice President of the Miami Economic Sustainability Alliance, which organized the event.
HuffPost Pollster's latest compilation of 15 publicly available polls shows Scott trailing by four points to challenger and former Florida Gov. Charlie Crist (D).
BEFORE YOU GO
PHOTO GALLERY
Rick Scott Controversies