Adorable Sirs Patrick Stewart and Ian McKellen have uploaded the latest documentation of their best friendship. Collaborating in an attempt to break the Internet, they wore matching bowler hats and playfully called each other on adjacent "phoneboxes."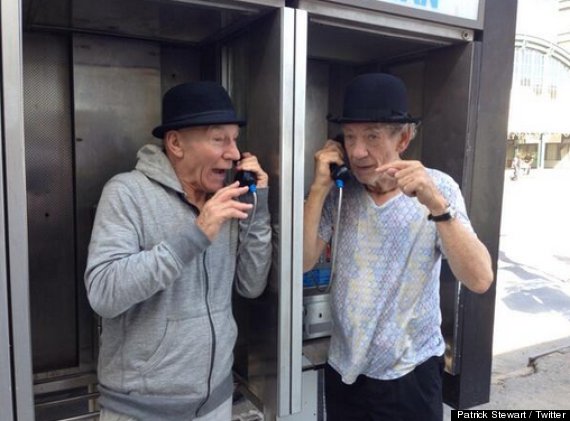 The two have just 11 shows left of "Waiting For Godot," which is surprisingly one of the few times they've worked together (despite the fact that we imagine them having been pals for eternity).
"@IanMcKellen: One more week on Broadway, and an auction to boot: https://t.co/GlKa53FboY pic.twitter.com/icUxU314zW" @RealKerriKing It's us!!

— Heidi Voltage (@HeidiVoltage) March 22, 2014
"We became friends on 'X-Men,'" Stewart told Huff Post Entertainment "Ian loves talking about it ... I started our relationship as a fan ... Then we came into the RSC (Royal Shakespeare Company) together. We didn't know one another well but we were both pursuing the same sort of career, but Bryan Singer cast us in the first X-Men movie and we had adjoining luxury trailers. Of course, it was movie making so we spent more time sitting in our trailers than on the set. We got to know one another and that's when the bond began, which was cemented by 22 weeks of touring in England and being in the West End doing 'Waiting for Godot.' And sharing a dressing room for 22 weeks!"
BEFORE YOU GO
PHOTO GALLERY
They said WHAT? #nofilter