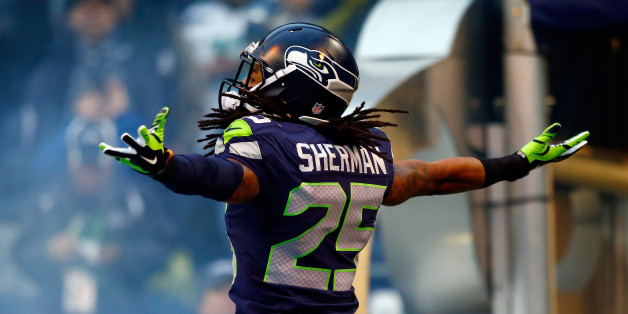 Richard Sherman is prepared to shut down everyone, everywhere.
It's no secret that challenging the Seattle Seahawks' talented and talkative cornerback on the football field is a poor idea for opposing offenses. It's also becoming increasingly apparent that challenging Sherman on Twitter is possibly as foolish. Anyone who tries Sherman on social media, or otherwise publicly questions his assertion that he's the best cornerback in the NFL, runs the risk of getting a response every bit as impassioned and scathing as the rebuke of San Francisco 49ers wide receiver Michael Crabtree that made headlines during the NFL playoffs.
"I'm the best corner in the game," Sherman exclaimed during an unforgettable interview with Erin Andrew of FOX Sports after denying the 49ers' a game-winning touchdown in the climactic moments of the NFC Championship Game in January. "When you try me with a sorry receiver like Crabtree, that's the result you're going to get."
With 20 career interceptions, two All-Pro selections and one Super Bowl win in his first three NFL seasons, the 25-year-old has the resume to bolster his claim. A Communications major while at Stanford, Sherman also has the merciless wit to defend it in fewer than 140 characters if needed. After NFL free agency opened on March 11, Sherman was involved in a pair of Twitter battles in quick succession that showed he's not giving any an inch even during the offseason.
Here is a look at some of the more noteworthy barbs traded during Sherman's Twitter battles.
Sherman vs. DeAngelo Hall
Veteran cornerback D'Angelo Hall made the bold choice to offer some unsolicited advice to Sherman on March 13. The 30-year-old free agent tweeted a message of "patience" at Sherman.
@RSherman_25 I know you can't wait for your turn young fella. Stay patience and keep working.

— DeAngelo Hall (@DeAngeloHall23) March 13, 2014
The attempt at mentorship devolved into a Twitter battle quickly.
@DeAngeloHall23 I checked ya film! It was rough.... Have some pride bout ya play

— Richard Sherman (@RSherman_25) March 14, 2014
@DeAngeloHall23 I just see a lot of Ls

— Richard Sherman (@RSherman_25) March 14, 2014
Sherman vs. LeGarrette Blount
LeGarrette Blount, a free agent running back, found Sherman in his timeline on March 12 after congratulating former teammate Aqib Talib on inking a contract with the Denver Broncos. In that congratulatory tweet, Blount referred to Talib as "the best corner in the league."
CONGRATS TO MY BROTHER LIB! YOU DESERVE IT BIG BRO! THE BEST CORNER IN THE LEAGUE AND ITS TIME YOU GOT PAID LIKE IT!! pic.twitter.com/cem22QtKJ2

— LeGarrette Blount (@LG_Blount) March 12, 2014
Showing a Twitter awareness to rival his field awareness, Sherman noticed the message. After trading a few tweets with Blount, Sherman pointed to the scoreboard to secure victory in the encounter.
@LG_Blount did that help y'all win the bowl or nah?

— Richard Sherman (@RSherman_25) March 13, 2014
Sherman vs. Darrelle Revis
In February 2013, two of the league's top cornerbacks went head to head on Twitter. Sherman was fresh off a breakout season in Seattle while Revis had been sidelined by a knee injury. Sherman felt he had taken the title of "best corner" from Revis, the 2009 AFC Defensive Player of the Year. Revis disagreed.
@rpchudgar @revis24 he didn't play this year so when he does then he will be in it

— Richard Sherman (@RSherman_25) February 20, 2013
I never seen a man before run his mouth so much like girl. This dude just steady putting my name in his mouth to get notoriety @rsherman_25

— Darrelle Revis (@Revis24) February 20, 2013
Got off my flight to this hilarious convo. So I have 8 picks 3 ff and a sack. My season stats looking like Revis career stats

— Richard Sherman (@RSherman_25) February 20, 2013
Toward the end of his tussle with Sherman, Revis took a dig at Sherman's follower count.
Look I just helped you get 6,000 followers homie!!! @rsherman_25

— Darrelle Revis (@Revis24) February 20, 2013
A year later, Sherman had a Super Bowl ring and more than 800,000 followers on Twitter.
Sherman vs. Michael Crabtree
Following the thrilling conclusion to the NFC Championship Game, Sherman and Crabtree both seemed to tweet about each other without tweeting at each other. Given everything that had just transpired on the field and on national television, the subtweeting was not particularly subtle.
Film don't lie... @nflnetwork @espn pull up the tape of that game and show me where this guy is the best? #fake #fake #fake

— Michael Crabtree (@KingCrab15) January 20, 2014
A lion doesn't concern himself with the opinions of a sheep.

— Richard Sherman (@RSherman_25) January 20, 2014
Sherman vs. Tom Brady
Following the Seahawks' 24-23 win over the New England Patriots in October 2012, Sherman took a jab at Tom Brady on Twitter. The tweet was eventually deleted but the question included could never be unasked.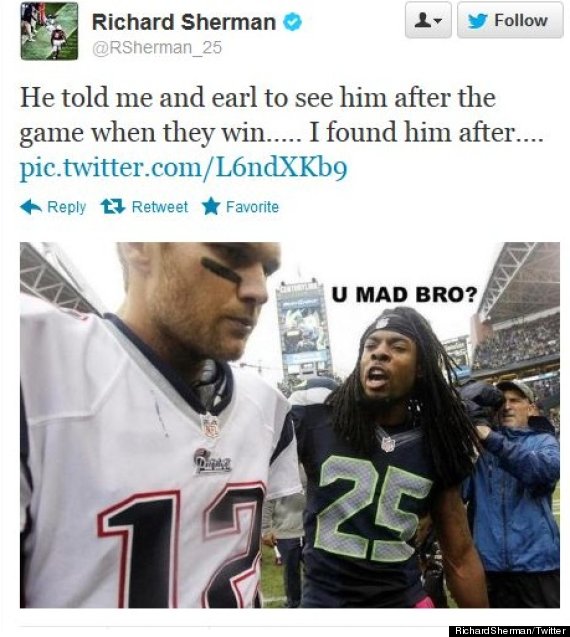 After his social media scrap with Hall earlier this month, Sherman offered a glimpse into his motivation for getting embroiled in so many of these dustups.
To my followers sorry you all had to see that.... But if you stand for nothing, you will fall for anything!

— Richard Sherman (@RSherman_25) March 14, 2014
With a healthy Revis heading to New England and talented corners like Talib having supporters of their own, Sherman will likely continue to face challenges to his claim about on-field superiority at his position. There shouldn't, however, be any debate about who is the best NFL cornerback on Twitter.
BEFORE YOU GO