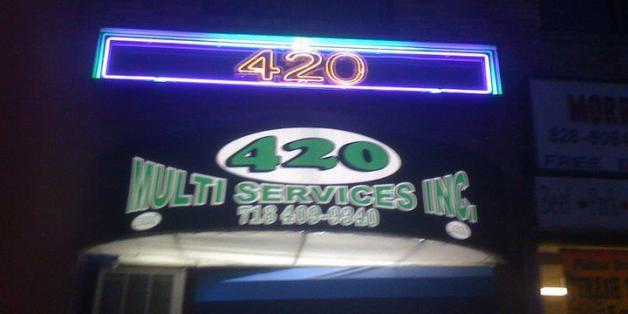 Subtle, dude.
The owner and three employees 420 Multi Services Inc. of the Bronx in New York City, were arrested Thursday night for allegedly dealing marijuana out of the business, News 12 reported.
The number "420", which appears in large bright green letters on the tax prep company's sign, is a common reference to marijuana. Nevertheless, clients of the tax preparation company told News 12 they had no idea anything illicit was going on.
Police became suspicious on Wednesday, when an NYPD narcotics officer said he saw the four people with a ziplock bag of marijuana inside the office. A search of the facility alleged turned up seven baggies with two ounces of weed, a pipe and a metal grinder, according to a complaint obtained by the New York Daily News.
The Facebook page for 420 Multi Services describes it as "the best place on earth."
Business owner Michael Thomas, 35, along with employees Christina Clarke, Mark Parsons and Christopher Mullahey, were all released on their own recognizance Friday, but are due back in court in May.
BEFORE YOU GO
PHOTO GALLERY
Marijuana Porn