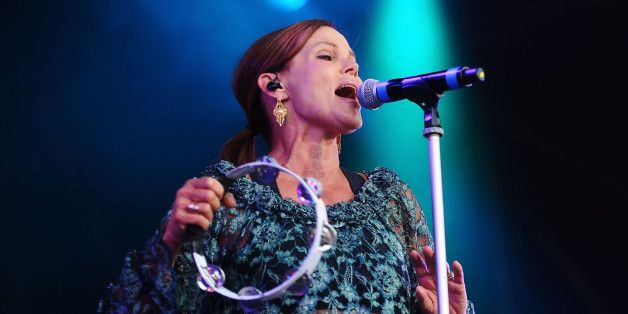 Belinda Carlisle, best known for her smash '80s hits like "Heaven is a Place on Earth" and "Mad About You," has always stood behind her 21-year-old son, James Duke Mason, who is openly gay.
But the former lead singer of The Go-Go's tells Best Daily that she'd be a "passionate" lesbian, gay, bisexual and transgender (LGBT) rights advocate even if he didn't identify as gay.
"When he came out to me, one of the first things that came to mind is, 'What sort of world is he going to have to live in?'" It's getting better for gay people but there is still a lot of homophobia out there," she said. "I don't understand the homophobia and the problem with giving gay people equal rights. I just don't get it."
It isn't the first time Carlisle, 55, has spoken out about LGBT rights in recent weeks. She told Metro earlier this month that when she first learned James was gay, she was worried over how her husband, film producer Morgan Mason, would react.
"I ended up carrying that secret around with me for three months," she said at the time. "I saw my therapist and went though all the things you know aren't true –- is it something I said or did? I knew that wasn't the case but it's a normal thing to go through."
When Morgan first learned the news, he first assumed it was a phase, Carlisle noted.
"That lasted about a year but they eventually figured it out between themselves," she said. "There was a struggle for a while but now we can't imagine our son being any other way."
In a 2012 blog for HuffPost Gay Voices, James Duke Mason gushed about his relationship with both of his parents, noting, "They told me to never be afraid to pursue my dreams, and that in turn has given me the strength and determination to do what I'm doing today: trying to fight the status quo, create change, and make a difference in this country and in the world."
He then added, "As in any mother-son relationship, we've had our tumultuous moments, and that's OK, as long as we can come to a place of mutual love and respect in the end. And there's no question that I love and respect her, and that she love and respects me."
BEFORE YOU GO
PHOTO GALLERY
Celebrity LGBT Families