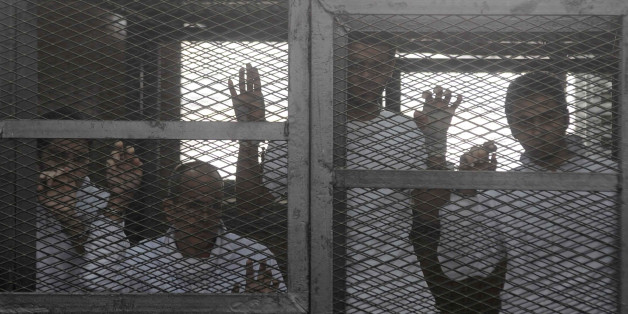 Egyptian court denied three Al Jazeera reporters bail on Monday in the third trial for the imprisoned journalists.
Peter Greste, Baher Mohamed and Mohamed Fahmy have been detained in Egypt for alleged ties to the outlawed Muslim Brotherhood and for "airing false news." Twenty defendants are currently facing charges for falsely portraying Egypt-- nine of whom are Al Jazeera journalists-- and could face up to seven years in jail.
Trial resumed on Monday after being adjourned twice previously, but the lawyers' request for their clients' bail was denied, the ABC said.
Greste was reportedly given an interpreter for the first time at Monday's trial, after the court allegedly failed to provide him one at the first two hearings. During court recess, Greste spoke up about the harsh conditions he and his colleagues have faced in prison along with the lack of evidence.
"We haven't seen any evidence in the court that possibly justify the charges or our imprisonment," Greste said. "We spent three months in prison based on baseless charges."
Interim Egyptian President Adly Mansour offered some hope for the journalists earlier in March, stating that he would "spare no effort to work towards the speedy resolution of the case." Fahmy responded Monday that Mansour's message is reason to be optimistic.
"The letters from the president are very important," he said. "They guarantee the trial will be fair and they state the judiciary is independent."
The trial will resume for a fourth time on March 31st.
More from the Associated Press:
CAIRO (AP) — A defense lawyer in Egypt's trial of three journalists and 17 others has cross-examined a witness over his analysis of footage shot by the Qatar-based Al-Jazeera English that the prosecution says undermines national security.
The footage wasn't seen in Monday's session. But lawyers said it included interviews with politicians and a soccer game. The prosecution's claim is that Al-Jazeera footage is edited to exaggerate unrest in Egypt. They accuse al-Jazeera of bias toward Islamist President Mohammed Morsi, ousted by the military in July after mass protests.
The trial had drawn international uproar because the journalists are facing terrorism-related charges. Only eight defendants, including Australian journalist Peter Greste and Canadian-Egyptian Mohammed Fahmy, were in court. Twelve others are being tried in absentia.
The judge adjourned the case for a week.
BEFORE YOU GO
PHOTO GALLERY
Countries with most imprisoned journalists