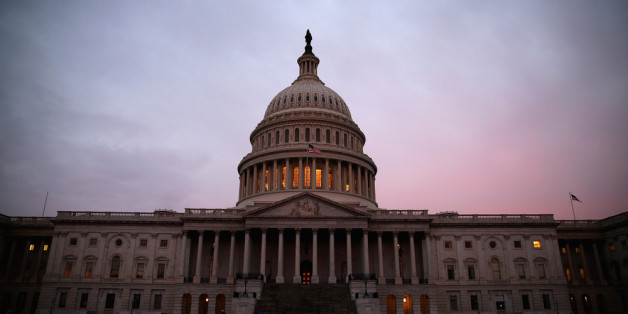 The Battleground poll sees challenges for both parties in American pessimism. Two new surveys show Americans reluctant to engage in Ukraine. And the polls on the DC mayor's race tell a consistent story. This is HuffPollster for Tuesday, March 25, 2014.
POLL FINDS AMERICA STILL HAS THE BLUES - Americans are both disenchanted with their leaders and pessimistic about the economy, according to a Tuesday GWU Battleground poll, jointly conducted by Lake Research (D) and the Tarrance Group (R). The national climate is snowed under a blizzard of depressing numbers: President Obama's approval rating is 44 percent among likely voters, while Congress is at 13 percent. Sixty-one percent say the economy has stayed the same or worsened in the past four years, while 73 percent say they're personally the same or worse off. Seventy percent say the economy makes it too tough for the middle class to make ends meet, and 64 percent that economic rules unfairly favor the rich. [GWU]
But who does it benefit in 2014? Democrats point to a double-digit edge on trust in the party to handle issues like standing up for the middle class, Medicare and Social Security. "Democrats are competitively positioned for 2014, despite the gloomy conventional wisdom about the Party's chances," pollster Celinda Lake (D) argued in a memo with Daniel Gotoff and Alex Dunn. The GOP, meanwhile, sees an unpopular, vulnerable president and a winning issue in the troubled Obamacare rollout. Tarrance Group pollster Ed Goeas points to Obama's upside-down approval ratings on a range of issues from foreign policy to the economy, and to the fact that strong dislike of his policies far outweighs strong approval. "[Obama] may still be able to rally base Democratic voters, but his capacity to lead the totality of the American Electorate has ended," Goeas and Brian Nienaber wrote in an analysis of the poll.
Challenges for both parties The GOP faces a restive base, with just 33 percent saying they're pleased with the direction the Republican Party is going in, compared with 68 percent of Democrats who say the same of their party. Democrats, meanwhile, face a traditional disadvantage in midterm turnout: 64 percent of Republicans say they're extremely likely to vote in November, compared to just 57 percent of Democrats, and 36 percent of young voters. While voters are equally likely to say they'd prefer a Republican or a Democrat in Congress, Republicans lead by 5 points among those "extremely likely" voters.
TWO POLLS FIND AMERICAN RELUCTANCE TO ENGAGE IN UKRAINE Sarah Dutton, Jennifer De Pinto, Anthony Salvanto and Fred Backus: "Most Americans don't think the U.S. is obliged to intervene in the recent annexation by Russia of the Ukrainian territory of Crimea. A majority of 61 percent of Americans do not think the U.S. has a responsibility to do something about the situation between Russia and Ukraine, nearly twice as many as the 32 percent who think it does. There is widespread bipartisan agreement on this. Public opinion about U.S. responsibility in Ukraine is similar to views about U.S. responsibility in other international conflicts. Majorities of Americans did not think the U.S. had a responsibility to intervene in Syria (68 percent), in the fighting and ethnic cleansing in Bosnia (65 percent) or in the mass killings in Rwanda (51 percent)." [CBS]
But concerns about Russia rise - Pew Research: "In the wake of Russia's annexation of Ukraine's Crimea region, public concern about Russia has increased, according to a new Pew Research Center survey. Even so, when given the choice, more describe Russia as a serious problem but not an adversary (43%) than say it represents an adversary (26%). Just 22% say Russia is not much of a problem….. About half (52%) say it is more important for the United States not to get too involved in the situation in Ukraine while 35% say it is more important for the U.S. to take a firm stand against Russian actions.Opinions have changed only modestly since early March, before Russia annexed Crimea." [Pew]
TWO NEW POLLS SHOW TWO-WAY RACE EMERGING FOR DC MAYOR - Mike DeBonis and Scott Clement on a new Washington Post poll: "A once-fractious primary battle for the District mayoralty has narrowed into a two-person race between incumbent Vincent C. Gray and D.C. Council member Muriel Bowser, who are in a dead heat for the Democratic nomination, according to a new Washington Post poll." The poll of just 391 likely primary voters shows 30 percent for Bowser, 27 percent for Gray, and 14 percent for Councilman Tommy Wells, with the remaining candidates getting single digit support and just 7 percent of voters with no opinion.[WashPost]
NBC4/Marist poll has similar results
- News4: "In a NBC4/Marist poll released Tuesday, Bowser and Gray are neck-and-neck, with
28 percent of likely Democratic voters supporting Bowser and 26 percent supporting Gray
in the race for the Democratic nomination." The poll of likely voters in DC's Democratic primary also gives 11 percent to Wells, 9 percent to Evans, with other candidates again in single digits and 15 percent undecided. Both the Post and NBC4/Marist used live interviewers to contact voters on both landline and mobile phones. [
NBC4
] [
Pollster chart
]
-Washington City Paper Editor MIke Madden: "Presumably critics complaining about @wcp/@kojoshow/@ppp poll doing landline only notice that the Post had essentially same findings?" [@MikeMadden]
-Pollster Logan Dobson (R): "In an election where there'll be a lot of voters deciding late, Gray being the 2nd choice of only 7% is fatal" [@LoganDobson]
Bowser stronger than Gray in general election - Both polls tested match-ups of the two leading Democrats against Councilman David Catania, who has announced he will run as an independent in November. Both polls show Gray and the independent roughly deadlocked (the two are tied at 41 percent on the Post poll, while Gray has a 43 to 37 percent edge on the Marist poll) but also give Bowser a big early lead over Catania (56 to 23 percent on the Post poll, 46 to 26 percent on the Marist poll).
HUFFPOLLSTER VIA EMAIL! - You can receive this daily update every weekday via email! Just click here, enter your email address, and and click "sign up." That's all there is to it (and you can unsubscribe anytime).
TUESDAY'S 'OUTLIERS' - Links to the best of news at the intersection of polling, politics and political data:
-Apart from Hillary Clinton, few female political leaders are well-known. [YouGov]
-PPP (D) finds New Mexico Democrats favored to win reelection. [PPP]
-Harry Enten says that if history is a guide, Democrats "are unlikely to see meaningful improvement in their generic ballot numbers" during 2014. [538]
-Nate Silver responds to the DSCC. [538]
-Kristen Soltis (R) enjoys the irony of Democrats attacking "the numbers nerds" they once loved. [DailyBeast]
-Danny Vinik notes that conflict between Silver and the Democrats "isn't much of a fight." [New Republic]
-Amy Walter reports Kantar/CMAG numbers showing Americans for Prosperity (R) outspending Senate Majority PAC (D) in contested Senate races by nearly three to one. [Cook Political]
-The Marketing Research Association is unhappy about the execution of an online poll posted by the White House as part of President Obama's review of "Big Data" and privacy. [MRA]
-A Texas poll sponsored by a pro-immigration reform group finds passing immigration reform won't affect GOP turnout at the polls. [Time]
-Buzzfeed's quizzes are getting alarmingly specific. [Buzzfeed]
-New Jersey voters prefer The Boss over The Gov. [PublicMind]