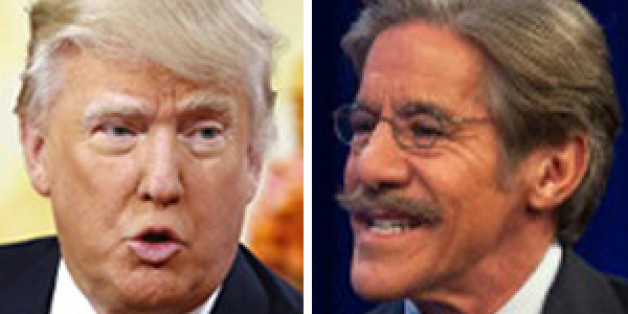 The newest edition of "Celebrity Apprentice" will feature a larger-than-life media figure who is frequently blasted for his forays on social media and many controversial statements.
Oh, and Donald Trump will also be there.
Capital New York's Alex Weprin saw Fox News personality Geraldo Rivera during a taping of the show Tuesday, so it's safe to say the madness has already begun:
So, after wandering by a "Celebrity Apprentice" taping today, I can confirm that Geraldo Rivera is a cast member for the new season.

— Alex Weprin (@alexweprin) March 25, 2014
We thought we had dodged the bullet on Rivera making a reality TV show appearance after he turned down "Dancing With The Stars" in August, but apparently not.
In case you aren't aware of what this means, we'll break it down for you. It means that Geraldo Rivera could soon be working for Donald Trump. It also means that Donald Trump and Geraldo Rivera are going to be in the same room -- and together on your TV screen -- on multiple occasions. And there's no telling what is going to happen in the legendary Trump boardroom. When it comes to both Rivera and Trump, really anything goes (we wish we could forget the naked 'selfie' incident).
Kate Gosselin, Johnny Weir, Brandi Glanville, Kenya Moore and Keshia Knight Pulliam are also reportedly signed on for the next season of "Celebrity Apprentice."
BEFORE YOU GO
PHOTO GALLERY
Donald Trump