Pharaoh Amenhotep III already towers over Egypt's temple city of Luxor, immortalized in 16-foot high twin statues that guard the entrance to his funerary temple.
On Sunday, archeologists in the famed southern city unveiled two more giant statues of the ancient Egyptian king. They were discovered and excavated from the temple area last year, according to UPI, and now the team of archeologists has completed the painstaking work to reverse centuries of damage.
"The statues had lain in pieces for centuries in the fields, damaged by destructive forces of nature like earthquake, and later by irrigation water, salt, encroachment and vandalism," Hourig Sourouzian, the German-Armenian archaeologist heading the restoration project, told Agence France Presse.
One of the statues, which depicts Pharaoh Amenhotep III seated with hands on his knees, reaches 11.5 meters high and weighs a colossal 250 tons. The ancient king's wife, Tiye, is depicted beside his right leg. The second statue shows Pharaoh Amenhotep III standing.
The red quartzite statues have been resurrected where archeologists believe they originally stood, by the ruins of Amenhotep III's funerary temple, AFP reported. According to CNN, the temple was likely erected during the Pharaoh's reign, between 1390 and 1353 B.C.
Amenhotep III presided over a period of unprecedented wealth and power for the Egyptian kingdom, and used his diplomatic prowess to stave off rival powers, PBS explains. His wife Tiye, who appears in the newly unveiled statue, was a strong character from a humble background, and the Pharaoh regarded her as a near-equal, according to historians.
Earlier this month, archeologists discovered a 14-meter statue of Tiye and Amenhotep III's daughter Iset at the same site, AFP reported. The princess' statue was engraved with her name and titles, including "Love of her father."
Look below for pictures of the two statues and other artifacts unveiled by archeologists in Luxor on Sunday.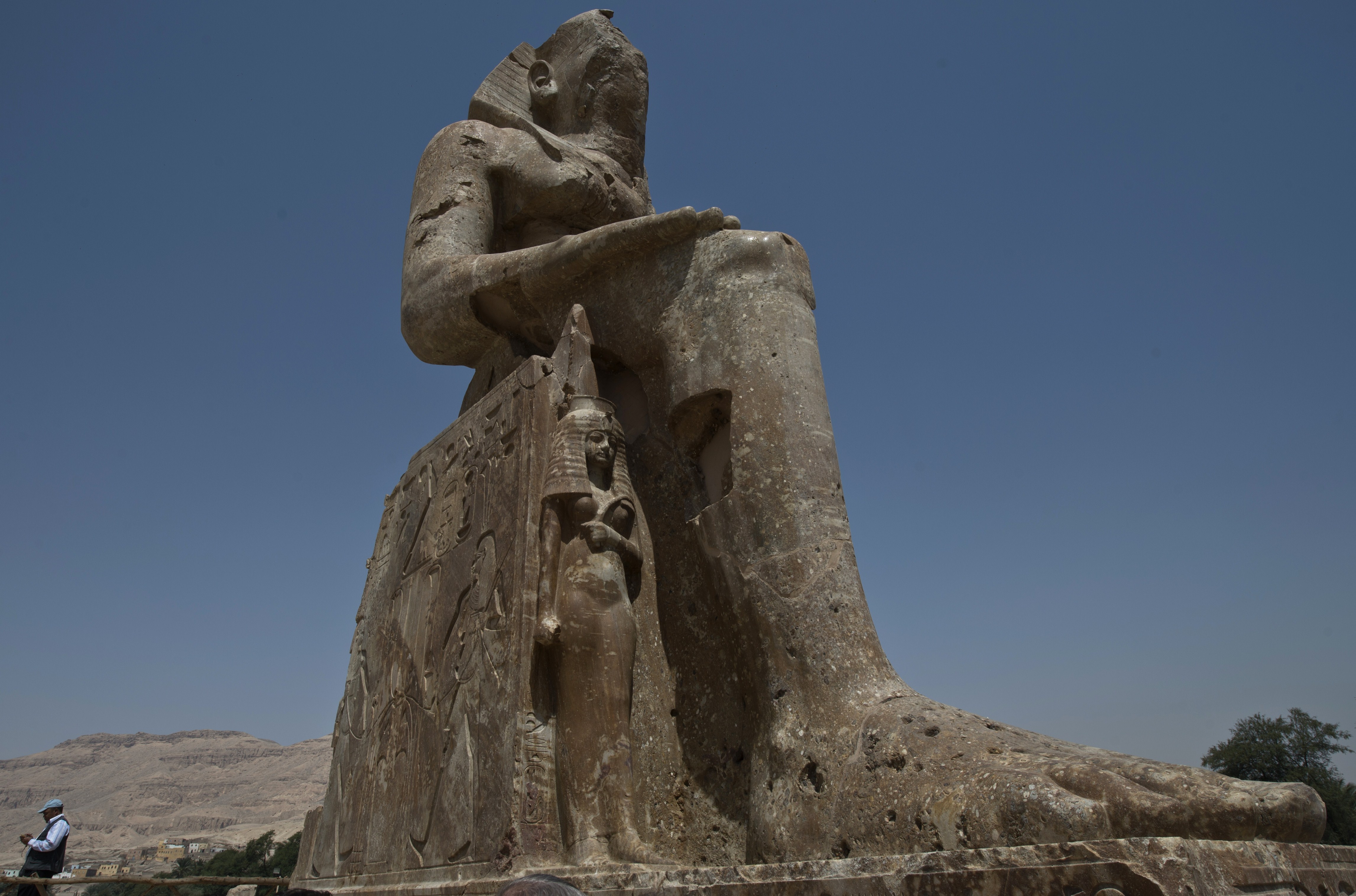 A picture taken on March 23, 2014 shows a newly-displayed statue of Pharaoh Amenhotep III and his wife Tiye in Egypt's temple city of Luxor. (KHALED DESOUKI/AFP/Getty Images)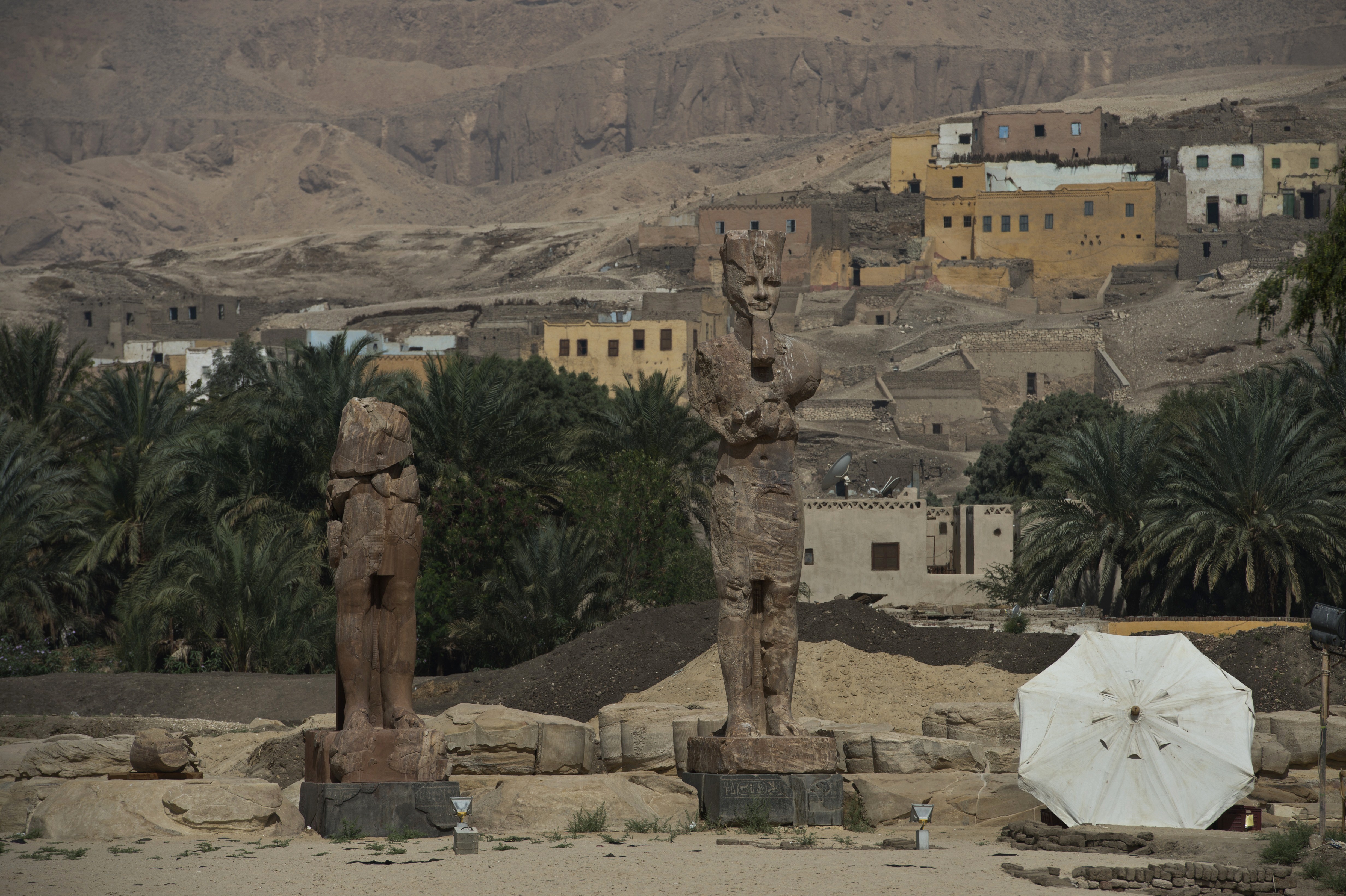 A picture taken on March 23, 2014 shows newly displayed statues of Pharaoh Amenhotep III in Egypt's temple city of Luxor. (KHALED DESOUKI/AFP/Getty Images)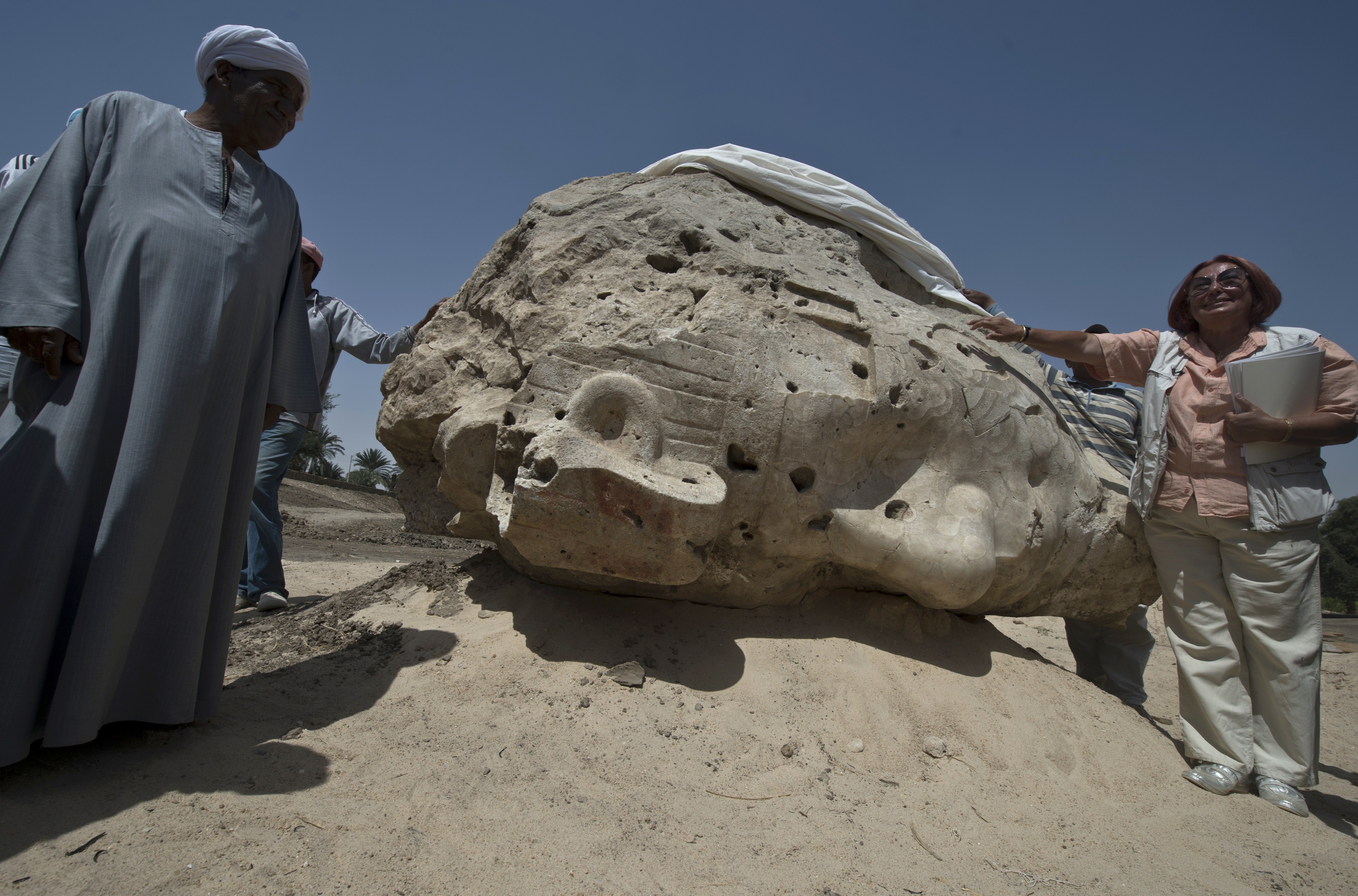 German archaeologist Hourig Sourouzian (C), who heads the project to conserve the Amenhotep III temple, stands next to a newly-displayed alabaster head from an Amenhotep III statue in Egypt's temple city of Luxor on March 23, 2014. (KHALED DESOUKI/AFP/Getty Images)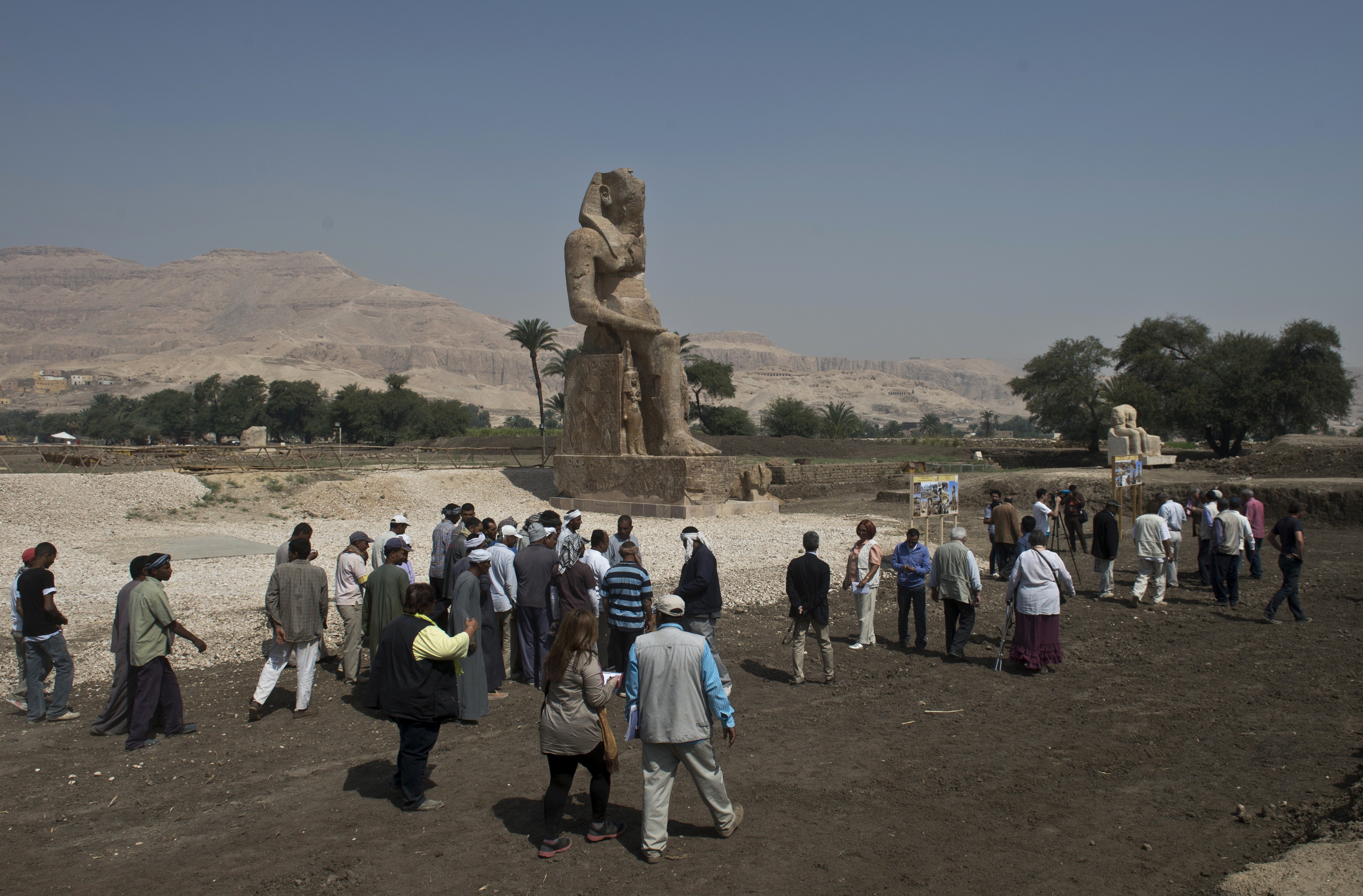 Tourists and journalists walk past a newly-displayed statue of Pharaoh Amenhotep III in Egypt's temple city of Luxor on March 23, 2014. (KHALED DESOUKI/AFP/Getty Images)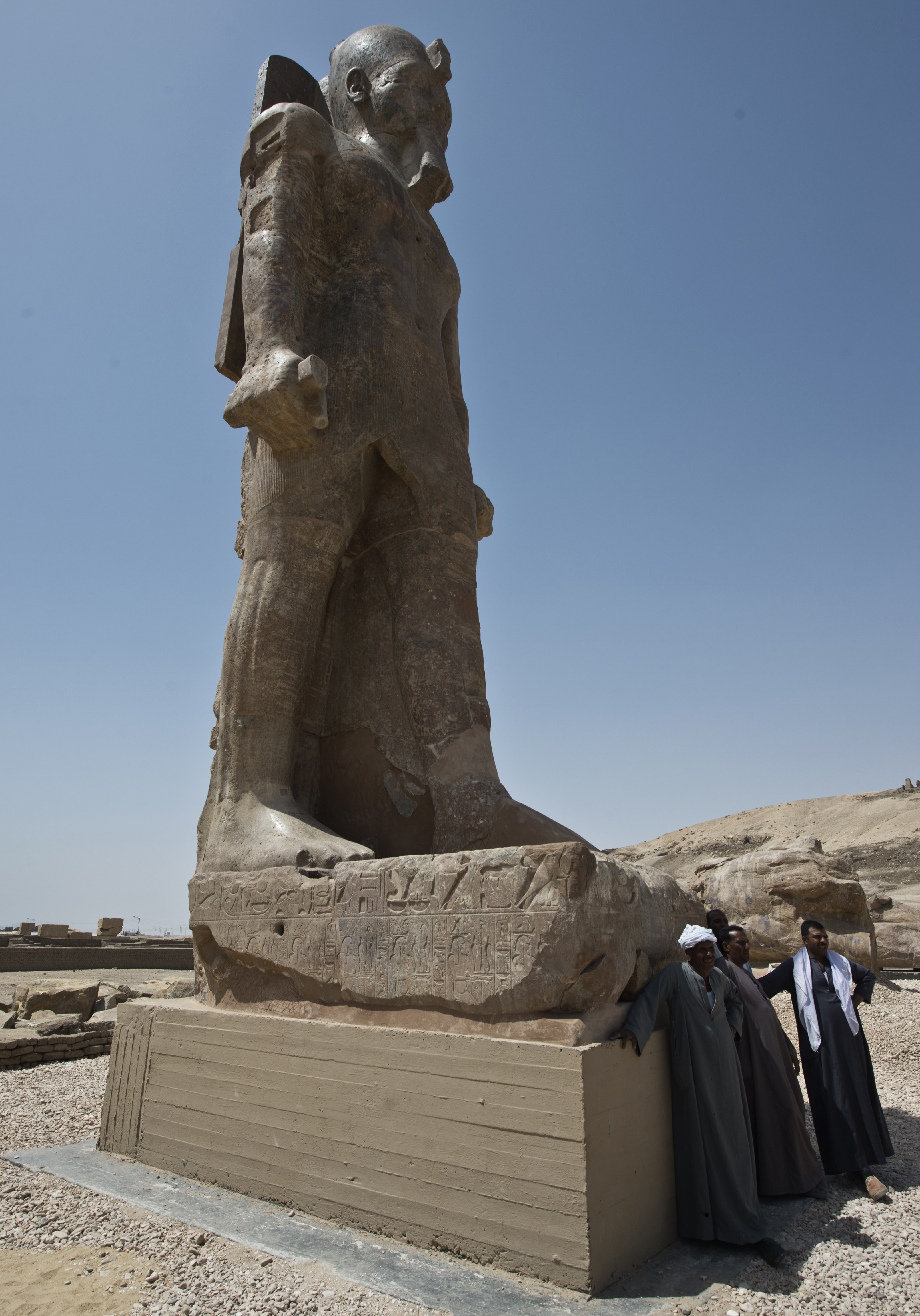 Egyptian archaeological workers stand next to a newly-displayed statue of pharaoh Amenhotep III in Egypt's temple city of Luxor on March 23, 2014. (KHALED DESOUKI/AFP/Getty Images)
BEFORE YOU GO