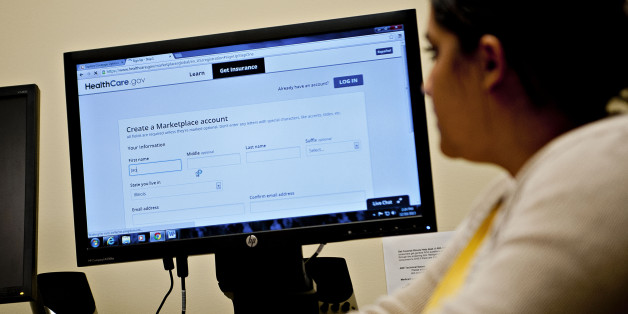 A majority of Americans appear to be weary of the political debate over Obamacare. A new CBS News poll finds a big GOP enthusiasm advantage for 2014. And Gallup notes that seniors have grown more Republican during the Obama years. This is HuffPollster for Wednesday, March 26, 2014.
MANY UNAWARE OF HEALTH CARE DEADLINE - Kaiser, reporting on a poll taken before the Obama administration announced an extension of the sign-up period for health care enrollment: "In the final days of open enrollment for new health insurance options under the ACA, substantial shares of the uninsured remain unaware of the law's individual mandate and the looming deadline to sign up for coverage. A third of those who lack coverage as of mid-March are unaware that the law requires nearly all Americans to have health insurance or pay a fine. When it comes to the specifics, four in ten of the uninsured (39 percent) are aware that the deadline to sign up for coverage is at the end of March, leaving about six in ten unaware of the March deadline. When reminded of the mandate and the deadline, half of those without coverage as of mid-March say they think they will remain uninsured, while four in ten expect to obtain coverage and one in ten are unsure." [Kaiser]
Favorable rating of ACA tips back up - More from Kaiser: "As the ACA turns four years old, overall public opinion on the law shifted in a more positive direction this month, though unfavorable views still outnumber favorable ones. In March, 46 percent say they have an unfavorable view of the law (down 4 percentage points since January), while 38 percent say they have a favorable view (up 4 percentage points since January). The gap between unfavorable and favorable views is now eight percentage points, down from a recent high of 16 points in November and January." [ibid]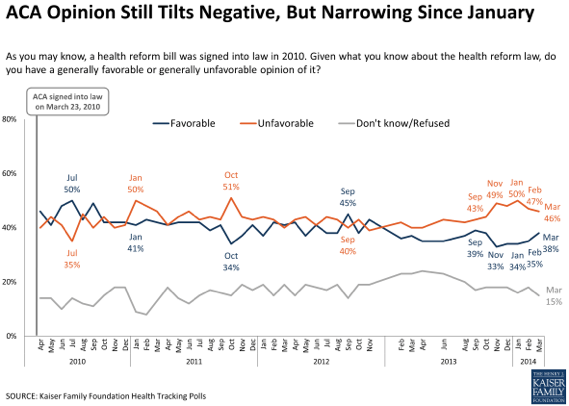 Most ready to move on - Kaiser: "[M]any Americans appear to be weary of the national debate about the law. Just over half the public (53 percent) say they're tired of hearing about the debate over the ACA and want the country to focus more on other issues, while about four in ten (42 percent) say they think it's important for the country to continue the debate...Perhaps reflecting this sense that the debate has gone on long enough, more of the public would like to see Congress keep the law in place and work to improve it (49 percent) or keep it as is (10 percent) rather than repeal it and replace it with a Republican-sponsored alternative (11 percent) or repeal it outright (18 percent)." [ibid]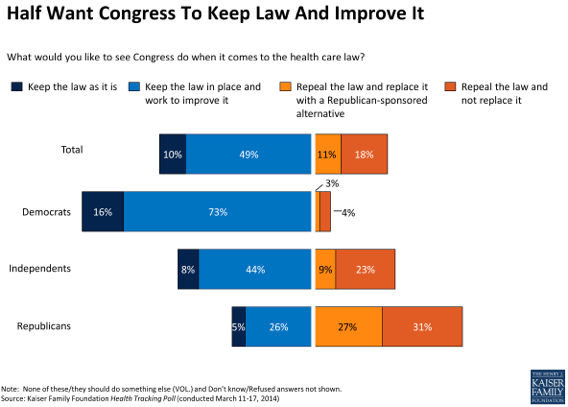 Can anything move Obamacare's ratings? - Chris Cillizza: "Opinions about Obamacare are virtually set in stone at this point. If you like the law, there's no one piece of information that is going to change your mind. And, if you hate the law, nothing that happens is going to make you hate it. any more. The Kaiser Family Foundation has been conducting polling on the law for the last several years and its data shows the remarkable consistency of support and opposition to the law….'Attitudes toward the ACA are pretty much baked in,' acknowledged prominent Republican pollster Neil Newhouse." [WashPost]
GOP HAS MIDTERM ENTHUSIASM EDGE - Sarah Dutton, Jennifer De Pinto, Anthony Salvanto and Fred Backus: "Republicans begin the midterm campaign cycle with an edge in voter enthusiasm and attention - much of which seems driven by the chance to voice opposition to President Obama. Seventy percent of Republican voters are already enthusiastic about voting in November (including 27 percent who are very enthusiastic), compared to 58 percent of Democrats. Meanwhile half of independents and four in 10 voters overall say they are not excited….Although he won't be on the ballot in November, most Republican voters (52 percent) see the upcoming midterm elections as a chance to vote against the president. By contrast, fewer Democrats (43 percent) see 2014 as a chance to support President Obama. For most independents (55 percent) the president isn't a factor at all - but those who see a connection are breaking more than two-to-one against him. In September of 2010, by contrast, things were more even, with 23 percent of voters looking to cast a ballot for President Obama and 25 percent against him. Leaving enthusiasm and attention aside, Republicans and Democrats are even (39 percent each) in the "generic ballot" test." [CBS]
OBAMA'S FOREIGN POLICY RATING LOOK BLEAK - Connie Cass and Jennifer Agiesta: "Foreign policy used to stand out as a not-so-bleak spot in the public's waning assessment of Barack Obama. Not anymore. He's getting low marks for handling Russia's swoop into Ukraine, and more Americans than ever disapprove of the way Obama is doing his job, according to a new AP-GfK poll. Despite the poor performance reviews, Obama's primary tactic so far — imposing economic sanctions on key Russians — has strong backing. Close to 9 out of 10 Americans support sanctions as a response to Russia's annexation of the Crimean Peninsula, the poll indicates. About half of that group says the U.S. sanctions so far are about right, while the other half wants to see them strengthened, the Associated Press-GfK poll found. [AP]
GALLUP SEES 'REALIGNMENT' AMONG SENIORS - Jeffrey M. Jones: "U.S seniors -- those aged 65 and older -- have moved from a reliably Democratic group to a reliably Republican one over the past two decades. From 1992 through 2006, seniors had been solidly Democratic and significantly more Democratic than younger Americans. Over the last seven years, seniors have become less Democratic, and have shown an outright preference for the Republican Party since 2010. In 1992, 53% of senior citizens, on average, identified as Democrats or said they were independents but leaned Democratic, while 39% identified as Republicans or leaned Republican, resulting in a 14-percentage-point Democratic advantage in seniors' party affiliation. Last year, 48% of seniors identified as or leaned Republican, and 45% Democratic, a three-point Republican advantage." [Gallup, HuffPost]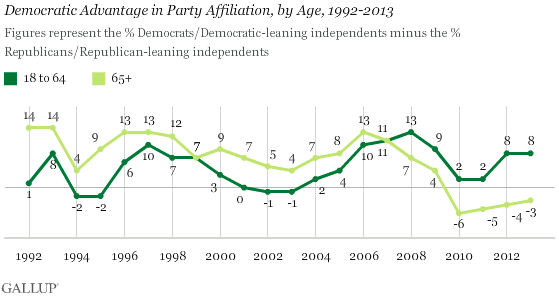 -Bloomberg's Jonathan Bernstein: "Gallup really shouldn't say that 65-99 year olds in 2013 are the same group as 1993 45-79 year olds" [@jbplainblog]
HUFFPOLLSTER VIA EMAIL! - You can receive this daily update every weekday via email! Just click here, enter your email address, and and click "sign up." That's all there is to it (and you can unsubscribe anytime).
WEDNESDAY'S 'OUTLIERS' - Links to the best of news at the intersection of polling, politics and political data:
-76 percent of Americans rate Pope Francis favorably. [Gallup]
-Wisconsin Gov. Scott Walker (R) has a 7-point lead over challenger Mary Burke. [Marquette]
-A plurality of Virginia voters approve of Gov. Terry McAuliffe's (D) job performance. [Quinnipiac]
-Most Americans say that it's more important to maintain good relations with Russia in order to keep their cooperation on Iran, than it is to punish them for their actions in Crimea. [YouGov]
-Americans are divided over the fairness of the justice system. [Rasmussen]
-Harry Enten says Hillary Clinton potential dominance in the Democratic primaries may give her a general election advantage in 2016. [538]
-Jonathan Bernstein sees a "serious flaw" in Enten's argument. [Bloomberg]
-Mark Mellman (D) revisits the argument over independent leaners and notes that many "swing voters" are not pure independents. [The Hill]
-David Hill (R) wonders if "persistent wrong-track sentiment could burst the bubble of political stability." [The Hill]
-The Washington City Paper offers interactive crosstabs based on recent PPP (D) poll of Washington, D.C. [WCP]
-Pew Research releases its State of the Media report for 2014. [Pew Research]
-Pew's Lee Rainie answers questions about the Internet Project's research on Reddit. [Reddit]