Any doubt that your fellow Americans also hate the Comcast-Time Warner Cable merger should be wiped away, because a new survey has confirmed that basically everyone considers the two cable providers pretty much the worst.
The Consumer Reports National Research Center surveyed 81,848 readers last year about their television, Internet and phone plans. And of 17 cable providers, Time Warner and Comcast ranked second and third to last, respectively, with particularly poor scores in value and customer service.
Mediacom, a smaller cable provider, was the only company that ranked worse than both. (The results of the survey are featured in Consumer Report's recent cover story on changes in the TV, Internet and phone service industry. The full article is behind a paywall.)
Comcast, which already controls more than a third of the cable market, is trying to buy its rival, Time Warner Cable, in a proposed $45 billion deal. If approved by the Federal Communications Commission, the new Comcast would control more than half of cable subscriptions.
Here's roughly what the cable market could look like post-merger: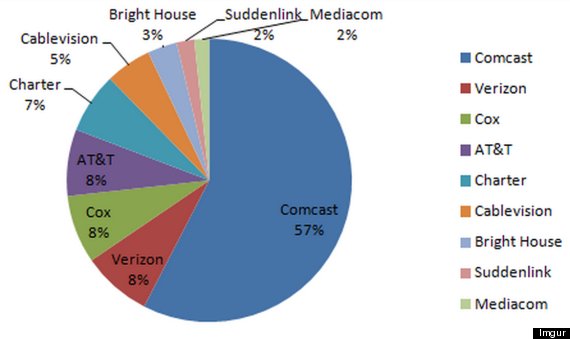 In an emailed statement, a representative from Time Warner Cable told The Huffington Post that the merger would enable the two companies to "innovate even faster and accelerate the deployment of services such as increased broadband speeds and expanded TV options." Comcast did not respond to an immediate request for comment, but has argued in the past that the deal wouldn't stifle competition.
The Consumer's Union, a policy and action division of Consumer Reports, doesn't agree. In a statement released Tuesday, the union said that the merger would be a clear loss for the companies' customers.
"A merger combining these two huge companies would give Comcast even greater control over the cable and broadband Internet markets, leading to higher prices, fewer choices, and worse customer service for consumers," Delara Derakhshani, policy counsel for the union, wrote in a statement. "The FCC and Department of Justice should stand with consumers and oppose this merger."