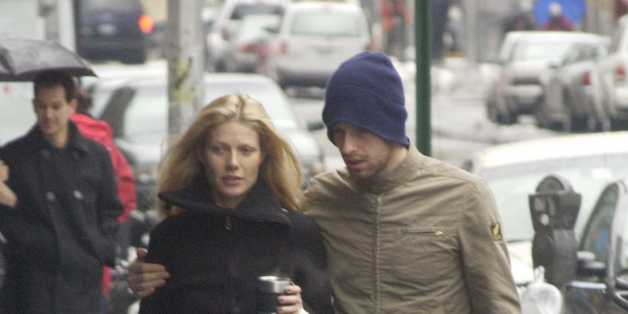 Gwyneth Paltrow and Chris Martin made the first move and announced their decision to "consciously uncouple," which is famous millionaire speak for amicably ending their relationship as husband and wife after nearly 11 years of marriage.
As with any celebrity split, now comes the onslaught of tabloid coverage with unnamed sources and editors guessing as to what exactly was the final nail in their marriage's proverbial coffin.
The pair is apparently having the friendliest breakup ever, and are actively avoiding all the speculation while hiding out on the island of Eleuthera in the Bahamas, according to LaineyGossip. And we do mean friendly. Accordingly to the Daily Mail, Paltrow and Martin purchased a $14 million Malibu beach property just days before they announced their split, which is intended to be a "bachelor pad" for Martin where he'll be able to be close to their two children, whom they plan to "co-parent."
As for what went down: Back in October 2013, there were rumors that Paltrow was having an affair with Elle Macpherson's husband, hotel billionaire Jeff Soffer. In February, claims that Paltrow was cheating on Martin with entertainment lawyer Kevin Yorn popped up on the social secret site Whisper, only to be denied by her rep (just as the Soffer affair was also denied). And for his part, Martin was the subject of cheating rumors back in 2009, when a source claimed to have spotted the Coldplay frontman kissing actress Kate Bosworth -- a claim his reps also denied.
Meanwhile, the Daily Mail wonders if the last straw was Paltrow giving a potentially just-friends kiss hello to her former boyfriend Donovan Leitch.
In their split announcement posted to the actress' lifestyle website Goop, the couple admitted they'd been working on their marriage for more than a year, and Us Weekly has been carefully combing through Paltrow's musings on marriage and relationships for the last half-decade in search of any clue to solve this mystery. Delving deep into the archives of her monthly Goop newsletter, Us believes there were signs that the marriage was on shaky ground back in July 2009:
"A long-term relationship between two people is an ever-evolving organism. Some stay the course, some fall, all stumble."
Perhaps the real mystery here is how we didn't previously recognize Paltrow as the poet that she most clearly is.
BEFORE YOU GO
PHOTO GALLERY
Celebrity News & Photos