First Lady Michelle Obama visited China's Chengdu Panda Base on Wednesday with daughters Malia and Sasha and mother Marian Robinson, capping off a seven-day trip to the Asian country. "I couldn't leave China without seeing the Chengdu Panda Base," she wrote in a blog post.
The facility, located in the outskirts of the Sichuan province's capital, was founded in 1987 to promote breeding and research for the endangered bears. The Chengdu base currently houses about 50 giant pandas.
Mrs. Obama's trip to China began like a "spring break holiday," The New York Times reported on Tuesday, "but has turned out to include far more substance -- and politics -- than the cheerful advocate of fitness and healthful eating ... often displays at home." U.S. first lady Michelle Obama, left, watches as her mother Marian Robinson, right, feed apple to giant pandas during their visit at Giant Panda Research Base in Chengdu, Sichuan province, China Wednesday, March 26, 2014. (AP Photo/Petar Kujundzic, Pool)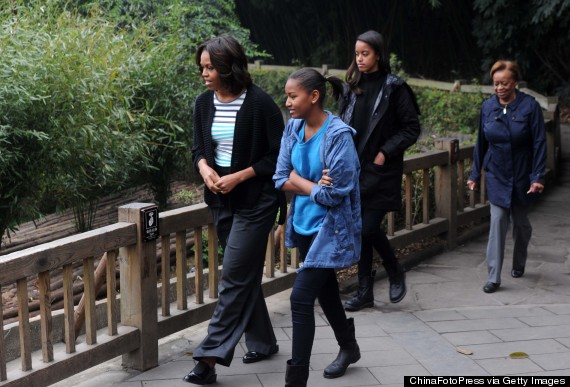 U.S. first lady Michelle Obama (L) with her daughters Malia Obama (2nd R) and Sasha Obama (2nd L) and mother Marian Robinson (R) visit Chengdu Panda Research Base on March 26, 2014 in Chengdu, China. (Photo by ChinaFotoPress/ChinaFotoPress via Getty Images)
BEFORE YOU GO
PHOTO GALLERY
Panda Overload!