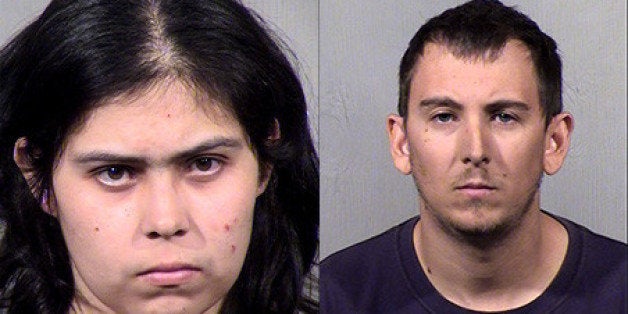 Veronica Diaz and Ryan Morris, the child's unmarried parents, were arrested after the boy's father brought him to a hospital "extremely underweight and neglected," according to police.
When interviewed by investigators, Diaz said she stopped feeding the baby boy on March 12 after she ran out of formula and gave him only water and a little milk every night until March 19. Diaz said she had four other children "to take care of and make sure are fed, so she gave up on the victim," according to court documents.
In a separate interview, Morris told police that he'd had money to buy formula but he decided to buy tobacco instead. He said he knew the baby was going without food and acknowledged what he did was wrong.
AZCentral reports that Diaz had previous contact with Child Protective Services but that she fled to California rather than attend a scheduled meeting.
The two suspects are being held in Maricopa County jails, where they were booked on one count each of child abuse.
BEFORE YOU GO
PHOTO GALLERY
Questionable Parenting