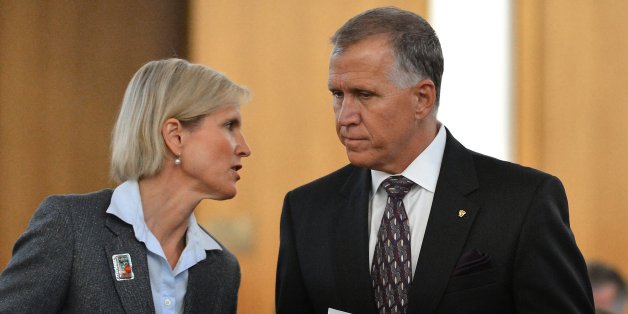 North Carolina state House Speaker Thom Tillis (R), who is running to unseat Sen. Kay Hagan (D-N.C.), announced a "Women for Tillis" coalition Monday that includes Dr. Mary Susan Fulghum, one of the founders of Planned Parenthood Health System's state headquarters in Raleigh, N.C.
As Talking Points Memo reported Wednesday, Tillis' campaign doesn't mention Fulghum's history with Planned Parenthood, instead noting that she's a "retired OB-GYN who is very active in the Raleigh community."
Planned Parenthood lists Fulghum as one of the principle founders of the Raleigh headquarters, which was created in 1980 as a mainly educational organization.
Despite Fulghum's connection to Planned Parenthood, Tillis' campaign says she isn't a supporter of abortion access.
"The Fulghums have a long history of supporting conservative, pro-life causes in North Carolina, be it Jesse Helms or others," Tillis campaign manager Jordan Shaw told TPM. "I spoke with Mary, who said she has not been involved with Planned Parenthood for 30 years and that she does not agree with them on issues of life."
The connection between Tillis and Fulgum is notable given that Tillis was instrumental in the state legislature's passage of a bill that imposed regulations on abortion clinics.
Planned Parenthood operates four health centers in the state that offer abortion services.
Tillis is currently engaged in a competitive primary for the GOP's nomination. Among his primary opponents are the Rev. Mark Harris, a Baptist preacher, and Dr. Greg Brannon, an obstetrician.
BEFORE YOU GO
PHOTO GALLERY
Senate Seats Up For Grabs In 2014