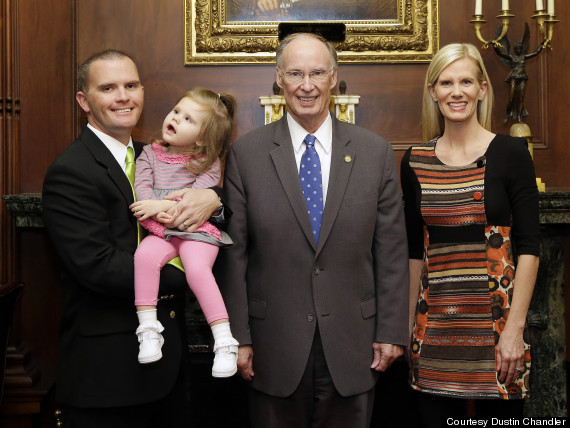 Dustin Chandler (left) stands with his daughter, Carly, his wife, Amy, and Alabama Gov. Robert Bentley in October. Bentley has lent his support to Carly's Law, which passed the Legislature last week and will legalize the marijuana extract cannabidiol to treat children's seizures.
Any day now, Alabama -- which was ranked the most conservative state in the country by Gallup last year -- will become the first state in the South to legalize a type of medicine derived from marijuana.
When "Carly's Law," or Senate Bill 174, arrived in the state House of Representatives at 2 a.m. on March 21, politicians on both sides of the aisle reportedly stood up and began chanting for the bill to pass. The measure, which received unanimous support in both chambers, will fund a $1 million study at the University of Alabama on the effectiveness of cannabidiol in treating seizure disorders.
But the "Heart of Dixie" isn't the only Southern state opening up to the possibility that cannabis may have medicinal value. Here are some others fighting to pull back the veil on medical weed:
Kentucky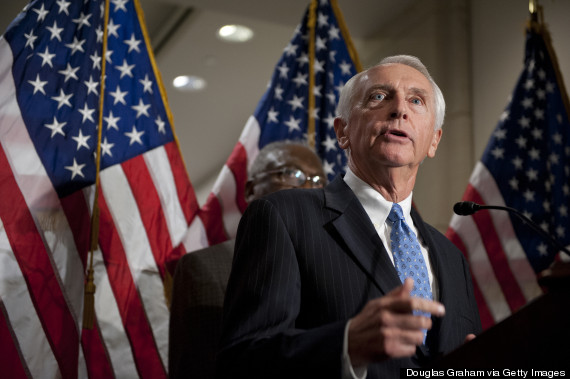 Gov. Steve Beshear has lent his support to a bill to legalize cannabidiol in Kentucky.
After passing the state Senate earlier this month, a bill to legalize cannabidiol oil in Kentucky -- a state so conservative some of its politicians still talk about marijuana killing people -- is already winning approval in the House, where it's expected to pass. Both the Kentucky State Police and Gov. Steve Beshear support the bill. If passed, the law would allow anyone (even children) enrolled in a U.S. Food and Drug Administration trial to be treated with the oil, which is derived from a part of the plant low in THC and does not produce a "high." The law would also let the state's two research hospitals prescribe and dispense the extract.
Tennessee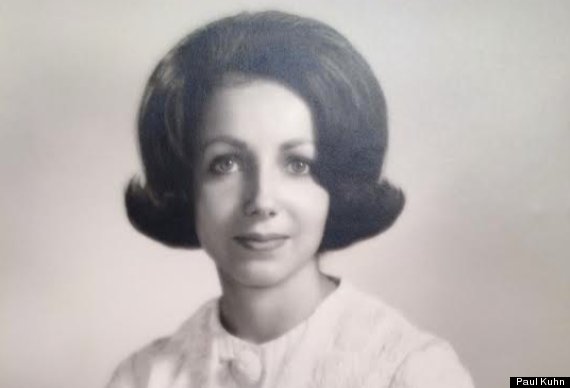 Jeanne Kuhn, the namesake of Tennessee's medical marijuana bill, found relief with cannabis during chemotherapy treatments.
In Tennessee, which has voted Republican in the past four presidential elections, and where being caught with a single joint can still land you behind bars for a year, a medical marijuana bill in the legislature has gotten much more attention than in past years. The Koozer-Kuhn Medical Cannabis Act would let people with such conditions as Crohn's disease and post-traumatic stress disorder possess a one-month supply of weed if a doctor says the potential benefits of the drug outweigh the risks.
"Even in hardcore Republican areas, they want to be able to have medical marijuana," the bill's author, state Rep. Sherry Jones, told The Huffington Post in January.
The bill didn't pass this year, but advocates say it made significant progress and stands a good chance for next session. "This year, it had much more discussion in the General Assembly than in years past," said Paul Kuhn, whose late wife, Jeanne, is the bill's namesake. "The Republican leadership essentially told us, 'Hemp this year, medical marijuana next year.'"
A separate bill that would establish clinical trials for CBD oil is making its way through the Tennessee House right now.
South Carolina State Sen. Tom Davis introduced a bill that would allow the use of cannabidiol for seizure treatment.
In South Carolina, where a person can be sent to prison for up to five years for growing a single marijuana plant even if it's his first offense, a bill to allow the use of cannabidiol for seizure treatment was introduced by state Sen. Tom Davis (R-Beaufort) late last month. Since then, at least six other Republican co-sponsors have signed on to the effort. Whether the bill can become a law is still unclear, however. Gov. Nikki Haley hasn't commented on the measure but has said she does not yet see broader medical marijuana legalization as a priority for the state.
Georgia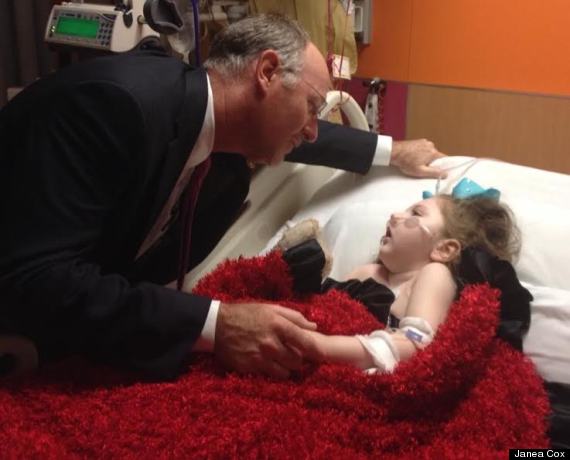 Georgia Rep. Allen Peake with Haleigh Cox, 4, at a local hospital in January.
In Georgia, where the Republican-controlled Legislature is engaged in an enduring fight against "Obamacare" and Medicaid expansion, a bill to legalize cannabidiol nearly became law this year. The state's Republican-dominated House of Representatives voted in favor of the bill by a massive margin (171-4), and the state Senate voted unanimously to pass it as long as it was coupled with a law that would insurance companies to cover pediatric autism. However, House politicians would not budge on the autism insurance measure, and the bill died as the time to pass it expired.
The bill was introduced by state Rep. Allen Peake, a conservative Republican lawmaker who previously told The Huffington Post he'd never smoked marijuana in his life. He said he was compelled to fight to legalize the cannabis oil after a visit with a 4-year-old girl who suffers up to 100 seizures a day.
Florida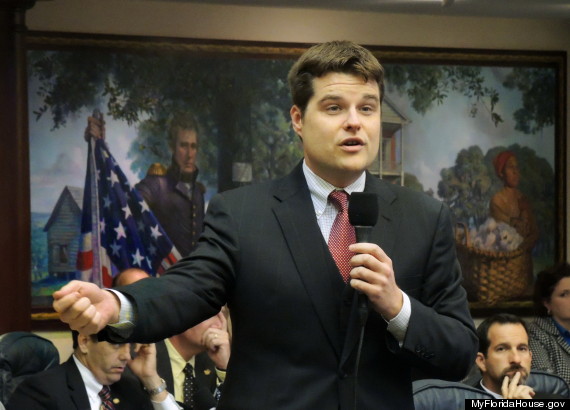 Florida Rep. Matt Gaetz introduced a bill to legalize parts of the cannabis plant that may help children with seizures.
In the Sunshine State, where the Legislature is commanded by Republicans, medical marijuana is almost certain to become legal before the end of the year. A voter initiative to legalize the product will appear on the ballot in November, and polls show that more than 80 precent of Floridians will likely say yes.
However, Florida parents with sick children aren't content waiting around for the ballot initiative to take effect. They have lobbied their legislators to introduce bills to legalize medical marijuana even sooner, according to Ben Pollara, the campaign manager at United For Care, an organization lobbying for legal cannabis in Florida. One of these bills -- a measure to legalize cannabidiol -- was the first piece medical weed legislation to ever be advanced by Florida's Legislature.
State lawmakers have also introduced a broader medical marijuana bill, as well as a bill to legalize weed for recreational purposes.
* * *
While these states' change of heart is evidence of progress, advocates say many are not going far enough -- particularly those states that are only thinking of legalizing cannabidiol.
"It is good to see more legislators are recognizing that marijuana has medical benefits, but unfortunately many of these bills will not do anything to help people," said Mason Tvert, a spokesman for the Marijuana Policy Project, a national organization that advocates for ending marijuana prohibition.
"In most cases, they do not provide adequate access to the product, and the products allowed are typically not adequate in treating the patients. Twenty states and the nation's capital have adopted effective medical marijuana laws, and there's no reason why these other states cannot do so, as well." he added.
BEFORE YOU GO
PHOTO GALLERY
States Ready To Come Around On Marijuana