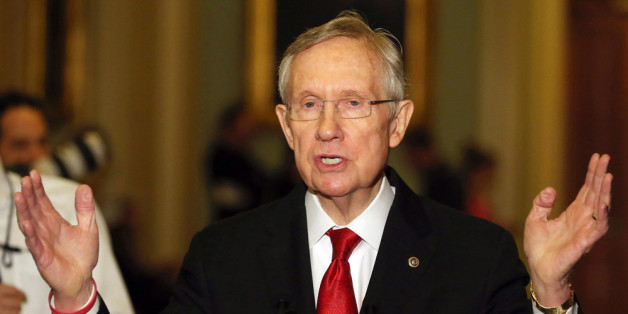 Senate Majority Leader Harry Reid (D-Nev.) believes the Washington Redskins will change their controversial name within the next three years.
"I can't imagine why [Redskins owner Dan Snyder] doesn't realize that the name is going to change," Reid said in an interview with the Washington Post's Dan Steinberg published Thursday. "It's only a question of when it's going to change. That's the only question."
Snyder and his football franchise have recently come under heavy criticism for the team's name, with individuals like Bob Costas and House Minority Leader Nancy Pelosi D-Calif.) condemning the team's use of the name as offensive. President Barack Obama has also spoken out on the issue, saying he would "think about" changing the name if he was the owner. A number of publications have refused to use the name of the team in print, instead referring to it as Washington's professional football team or just "Washington."
Snyder, however, has insisted he will "never" change the team's name.
"We will never change the name of the team," he said last year. "As a lifelong Redskins fan, and I think that the Redskins fans understand the great tradition and what it's all about and what it means, so we feel pretty fortunate to be just working on next season."
Reid thinks Snyder will eventually come around.
"I think the name will be changed within the next three years," Reid predicted in the Post interview. "You know, I may slip a year or two, but I think it's just a question of time. Because Native Americans are organized. We have Native Americans who now are not all poor. We've got these Indian gaming establishments who have money, who are gonna help with this. And Dan Snyder's not the only person in the world with money."
In an apparent effort to make amends with the Native American community, Snyder announced earlier this week he is creating a foundation to "provide meaningful and measurable resources that provide genuine opportunities" to Native Americans. Some of the projects include distributing winter coats and athletic shoes in disadvantaged communities. However, many remain skeptical of Snyder's efforts, with activist Suzan Shown Harjo describing the action as "somewhere between a PR assault and bribery."
Reid was similarly dismissive of the move.
"Dan Snyder, he's got a great new deal," he said. "He's going to throw a few blankets to the Indians and get a tax deduction for it."
BEFORE YOU GO
PHOTO GALLERY
Reactions To Bob Costas' Redskins Comments