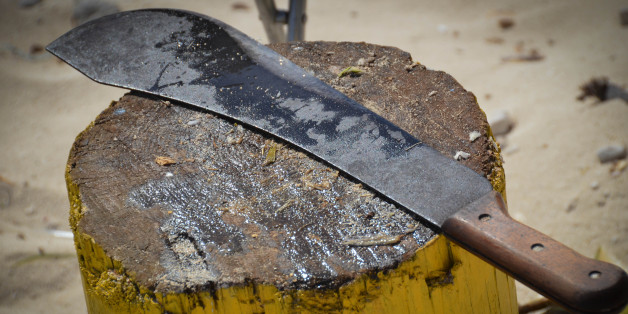 A cyclist allegedly attacked by a machete-wielding teen while a second accomplice filmed the incident is searching for answers -- and video evidence -- as to why he was targeted in the bizarre, seemingly random crime.
The 30-year-old Chicago sound engineer, who requested that media not use his name, told the Sun-Times he was riding his bike through the city's Humboldt Park neighborhood on the West Side around 3 a.m. Saturday when he saw two teens hiding in an alley and then sprint toward him.
"I noticed right away that one had a machete ... and that's when I noticed the other guy was filming it with his phone," the man told DNAinfo Chicago.

"The machete wielder [sic] ran directly at me and hit the back tire of my bike with the knife. It stopped my bike on impact -- shattering my fender and slicing through both tube and tire," the man who goes by the Reddit handle 'condirice' wrote, inquiring if anyone had seen posted video of the attack. "The next thing I remember was being punched directly in the face..."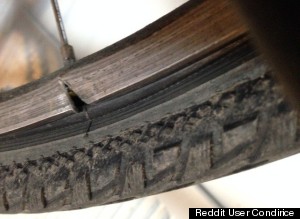 The victim shared photos of his bike after the alleged attack on Reddit.
The man said the teen with the machete hacked his bike several more times, nearly cutting through the rim, before yelling "get the f--- out of here."
In his Reddit post, the victim suspected he may have been a target of a variation on the so-called "knockout game" where attackers try to knock out targets with one punch. (Law enforcement remains skeptical the game represents anything more than an eye-catching name given to a type of random assault that has always occurred.)
When the teen holding the camera starting laughing at the attack, the man said he figured "at that point I knew that I probably wasn't going to get murdered," according to DNAinfo.
After speeding home on the partially destroyed bike, the man said he called the police who were unable to find the teens. He described the pair as African-American teens of average height and weight, with the machete-wielding teen wearing a white hooded sweatshirt and a black baseball cap.
"People are saying 'you're crazy for living there and being out at that hour.' But this can happen anywhere, I was in the wrong place at the wrong time," the man told the Sun-Times. "But I'm not going to move and I'm not going to stop riding my bike."