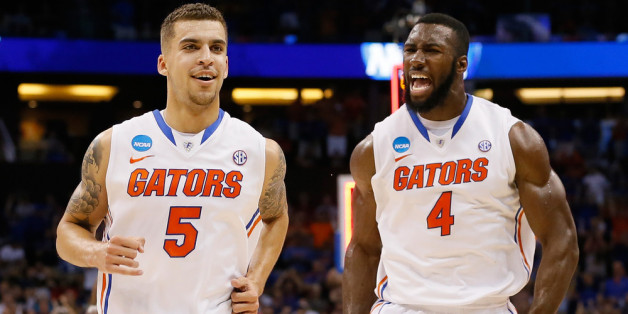 The first full weekend of March Madness 2014 once again showed us why there is simply nothing else like this tournament: Harvard beat Cincinnati, Stephen F. Austin used a miraculous 4-point play in the waning seconds to top VCU, North Dakota State was trending on Twitter and millions of office pools were ruined. Heading into the Sweet 16, we are left with three regional 1-seeds and one major Cinderella in Dayton, who also boasts the youngest coach in the field, the 35-year-old Archie Miller. Thursday night's action brings more marquee games and storylines, and here are the key things in each game to watch for.
Double-Digit Seeds
It wasn't enough to merely have 11-seeded Dayton and 10-seeded Stanford advance to the second weekend, but how about a classic tilt between the two to decide who reaches the regional final? And during what we thought would be the "year of the freshmen," both of these teams feature senior-laden teams with young coaches (Stanford's Johnny Dawkins is 50). The Dayton Flyers -- who stunned in-state foe Ohio State and then Syracuse in Buffalo -- are an impressive 6-0 in their last six matchups against ACC opponents and 8-0 against SEC teams. Meanwhile, the Cardinal boasts a massive front line, highlighted by senior forwards Dwight Powell and Josh Huestis, who helped limit mighty Kansas to under 33 percent shooting from the floor.
Power Matchup
When UCLA battles the tournament's top overall seed in Florida, it may bring back memories of the 2006 title game, a matchup that the Gators dominated from the outset. This year's Florida team starts four seniors, including the SEC Player of the Year, point guard Scottie Wilbekin. They have tremendous size and are just as physical on the front line as Patric Young and Will Yeguete. The Gators have the nation's No. 2 defense in terms of adjusted efficiency, according to Kenpom.com. UCLA though, has a ton of future NBA Draft lottery picks, including sophomore scoring dynamo Jordan Adams (17 points per game on 49 percent shooting) and point guard Kyle Anderson, a matchup nightmare because of his 6-foot-9 frame. I lauded the Bruins for hiring coach Steve Alford in the offseason; he is a defensive coach who understands tempo. That is precisely what it will take to spring this upset.
Contrasting Styles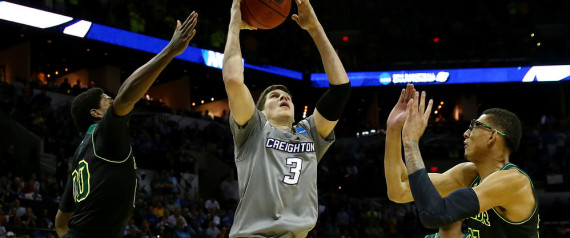 Baylor-Wisconsin is highly intriguing because the Badgers generally employ a very deliberate tempo offensively and are extremely disciplined on both ends of the floor. Baylor, with a plethora of long athletes, including power forward Cory Jefferson and 7-foot center Isaiah Austin (pictured above right), uses a remarkably disruptive zone defense to bother shooters. The Bears endured a miserable stretch this season, but have lost just one game since March 1 and rank sixth nationally in adjusted offensive efficiency, per Kenpom. It was that zone that held Doug McDermott, the leading scorer in the land, to 15 points in the round of 32.
Rematch!
San Diego State and Arizona faced off in November, a game in which the Wildcats ultimately prevailed, 69-60. That was a physical slugfest and likely a preview of Thursday night in Anaheim. Both teams are similar in how they win. Pac-12 Player of the Year Nick Johnson is a clutch scorer who makes one winning play after another. SDSU's Xavier Thames -- also a combo guard -- earned Mountain West POY honors. The Wildcats lead the nation in defensive efficiency, allowing 87.2 points per 100 possessions, while San Diego State allows just 90 points. One key matchup to watch for is Arizona blue chip freshman Aaron Gordon against the Aztecs rugged sophomore Winston Shepard and senior Josh Davis: All three make a living around the basket on both ends of the floor and all three embrace contact.
Email me at jordan.schultz@huffingtonpost.com or ask me questions about anything sports-related at @Schultz_Report and follow me on Instagram @Schultz_Report. Also, be sure and catch my NBC Sports Radio show, Kup and Schultz, which airs Sunday mornings from 9-12 ET, right here.