Upon hearing the name Meret Oppenheim, a striking image often comes to mind. A teacup, spoon and saucer, covered in a tawny fuzz, the beautiful collision of the domestic and the savage, the perfect little symbol of the uncanny. The late Oppenheim is often dubbed somewhat of a one-hit-wonder as a result of her 1936 "Object," a label she spent her entire career determined to overcome.
An exhibition entitled "Meret Oppenheim: Tender Friendships" puts this inapt marker to rest once and for good, revealing the complex and multifarious fruits of Oppenheim's expansive artistic career. Spanning Oppenheim's lesser-known feats in painting, sculpture, performance art, furniture, poetry and jewelry design, the show explores the many nooks and crannies of Oppenheim's career that don't involve fur -- or do, in other ways!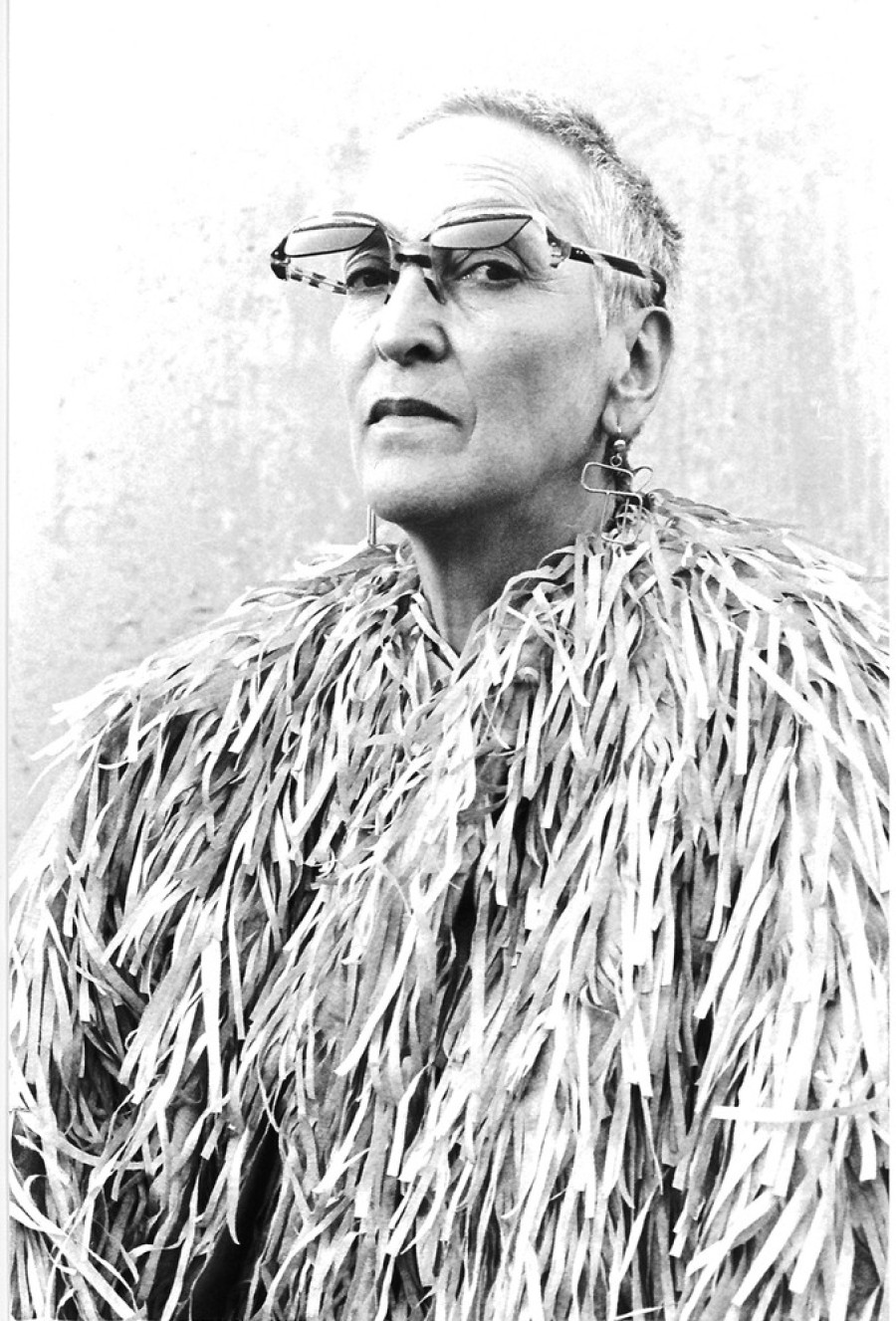 Photograph of Oppenheim by Claude Lê Anh in a paper jacket she created for an Italian designer
"I was attracted to the mysterious quality of her art, her inventiveness and her poetic imagination," Curator of Book Arts at the National Museum of Women in the Arts Krystyna Wasserman explained. "We are presenting lesser-known works by Oppenheim, which illuminate the artist's personal life, her artistic and intellectual friendships, and the landscape of her dreams."
Oppenheim, who was born in Germany, moved to Paris in 1932, where she quickly fell into the budding Surrealist crowd with the likes of Man Ray, André Breton, Luis Buñuel and Marcel Duchamp. Her work explored themes of reality and imagination, sensuality and desire -- areas often navigated in the Surrealist quest. Yet, never one to be defined by categories, Oppenheim distanced herself from the movement in the '50s to explore her full potential as an artist.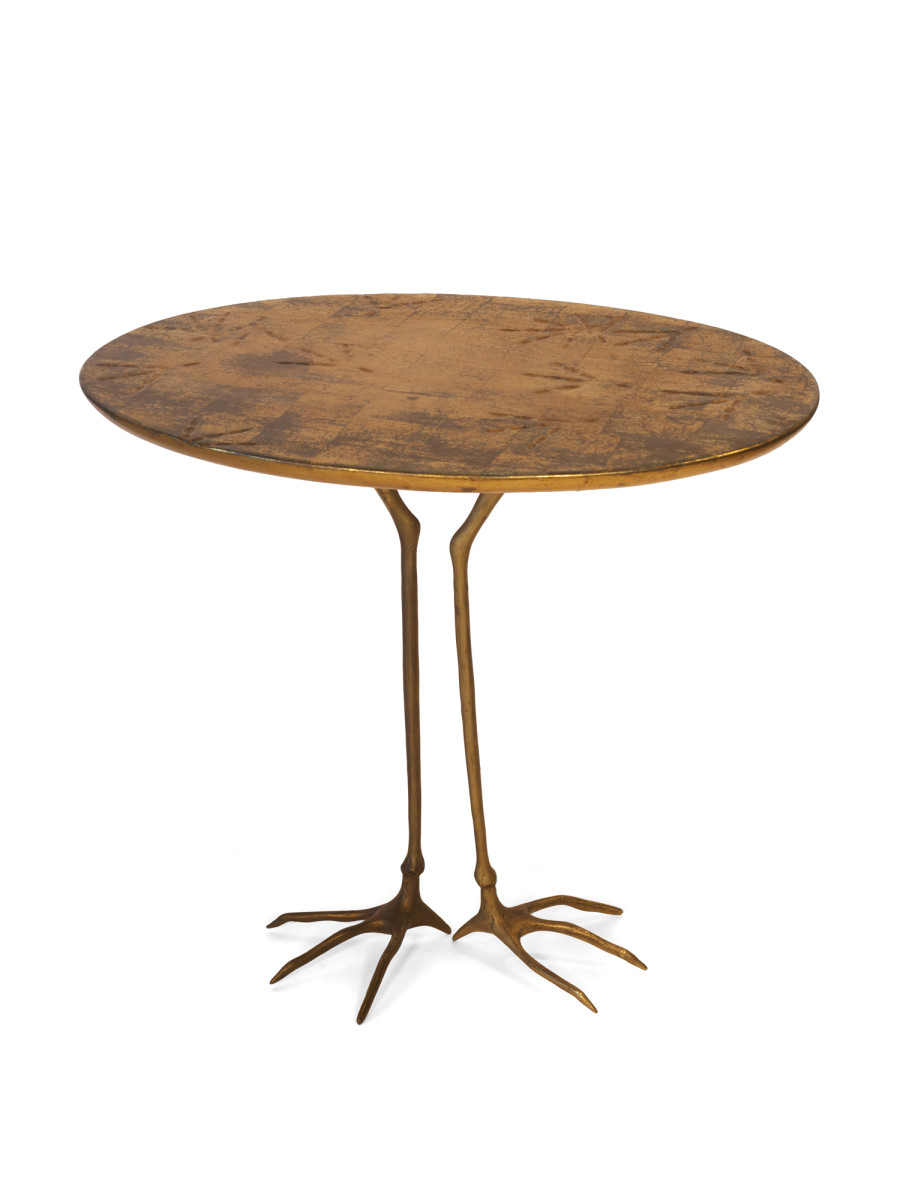 Meret Oppenheim, Table with Bird's Feet, 1973; Top: wood, carved and gold-plated; feet: bronze, 25 ½ x 27 ½ x 19 ¾ in.; Private collection; © 2014 Artists Rights Society (ARS), New York / ProLitteris, Zurich; Courtesy of Lisa Wenger and Martin A. Bühler, Meret Oppenheim Estate; Photography by Suzanne Khalil
A particularly striking aspect of Oppenheim's mythology is her refusal to be referred to as a "female artist." "There's no such thing as male art or female art," she famously said. "Art is androgynous."
Yet this resistance to categorization in no way deterred Oppenheim from being a fierce feminist and woman's rights advocate. In an interview, Oppenheim's niece recalled her advice: "You know, you can be a complete woman without having children." Throughout her life, Oppenheim showed the power of a single woman to be both artist and muse, lover and friend.
Oppenheim's works, at once fearless and delicate, serious and radically playful, show the full range of an artist whose abilities extend far beyond their furry beginnings. From a table whose feet resemble those of a bird to a glamorous coat made entirely from shredded paper, Oppenheim reveals how the smallest oddities can tap into something big, something monumental, something timeless.
"Meret Oppenheim: Tender Friendships" will run from April 26 until September 14, 2014 at the National Museum of Women in the Arts in Washington, D.C.