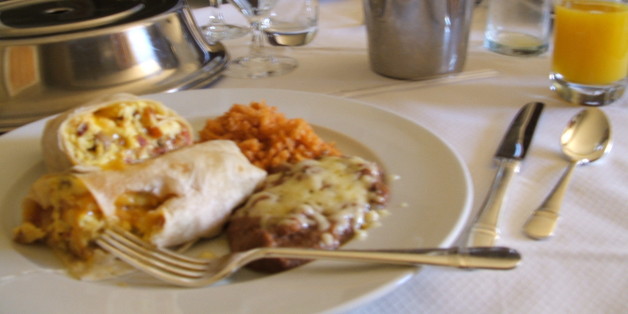 Everybody knows room service is expensive, but just how unbelievably expensive is it at its most expensive?
Sixty-eight dollars. That's the average cost of room service in Las Vegas, the most expensive place in the U.S., according to a recent survey.
For the survey, researchers from TripAdvisor compared the cost of "room service" items from hotels across the country. They added up the price of ordering a club sandwich, getting a shirt dry cleaned through the hotel's cleaning service, and taking water, peanuts, vodka and soda from the mini fridge.
The average total for all those items in Vegas came to $68 (the mini-fridge vodka ALONE contributed $12). Second place was New York City, where the average room service club sandwich costs $24. Third place was Washington, D.C., where getting your average shirt cleaned will cost almost $14.
It's enough to make you Google the local laundromat and deli during your next vacation.
Here are the survey's top five most expensive U.S. cities for room service, along with their crazy-high total costs for the items listed above.
1. Las Vegas: $68.01
2. New York City: 67.83
3. Washington, D.C.: $61.66
4. Los Angeles: $60.67
5. Honolulu: $59.92
If you're looking to do room service on the cheap, TripAdvisor recommends visiting Denver, where the average cost for their room service order was $41. Seattle was the next cheapest with a $42 total, and Minneapolis cost $46.
When traveling abroad, the most expensive place to order room service is Helsinki, Finland. The cheapest is Tunis, Tunisia... though we're not entirely sure you'd want to travel there right now.
The lesson to be learned from all this? Pack a lunch.
BEFORE YOU GO
PHOTO GALLERY
America's Most Popular Room Service Items