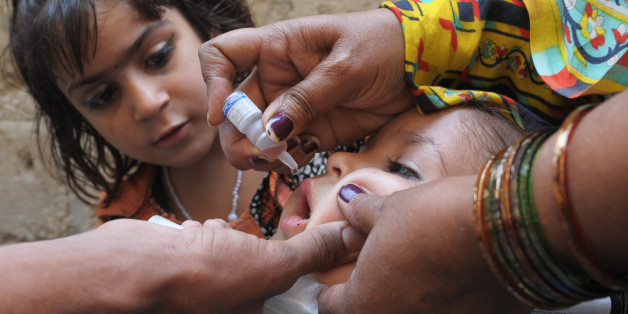 Salma Farooqi worked on the frontline of Pakistan's battle with polio, helping to vaccinate children in one of the world's last havens for the crippling disease. On Monday, her bullet-riddled body was found, bearing marks of torture, after unidentified gunmen attacked her home near the Pakistani city of Peshawar.
Farooqi disappeared when a group of armed men raided her family home in Gulozai village overnight Sunday, relatives told Pakistan's DAWN newspaper.
"Salma was fast asleep next to me when the men came in, beat me and tied me and the children up," Farooqi's husband Mohammad Karim Khan described to The Guardian. "It took us an hour to free ourselves and then we saw that Salma had disappeared."
The next day, her mutilated body was found about 2.5 miles away. "The armed men cut her lips and broke her hands and dumped the body in the fields outside Peshawar," a police official told NBC News.
Police are still investigating whether Farooqi was killed because of her work, but the brutal murder sends a chilling message to health workers who are frequently targeted by militants in Pakistan, The Guardian notes.
Many of those working for the vaccination program currently work under the cover of armed Pakistani police after a series of militant attacks on vaccinators has left at least 30 polio health workers dead since 2012. Some Islamic militants in the country accuse the polio program of being a cover for Western espionage, or a conspiracy to sterilize Muslim children, according to The Guardian.
Pakistan is one of three countries in the world that remain polio-endemic, along with Nigeria and Afghanistan. The Pakistani strain of polio was recently discovered in Syria, highlighting the World Health Organization's warning that the disease's steady decline of the past decades could be reversed.
Farooqi's home province of Khyber Pakhtunkhwa in north-west Pakistan, as well as neighboring tribal districts, are some of the world's worst hotspots for the disease, according to Agence France Presse.
BEFORE YOU GO
PHOTO GALLERY
Pakistan's Anti-Polio Campaign