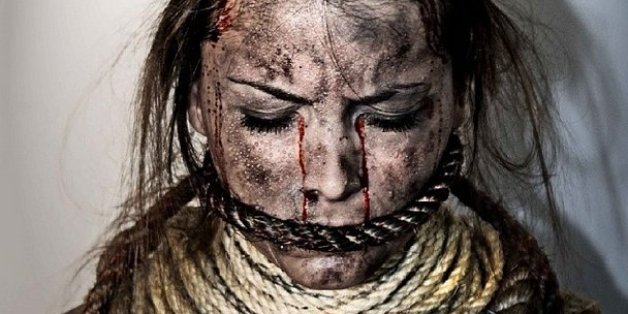 The beautiful face that once helped her win the coveted Miss Universe crown is now covered in filth and blood.
Stefanía Fernández, an ex Miss Universe from Venezuela, posed gagged and with bloody tears running down her face.
With the sparkle on her shiny crown intact and still sitting pretty on her head, the beauty queen is perhaps making the biggest statement of her life, without uttering a single word:
She's participating in the political campaign, Your Voice is Your Power.
Fernández joined the creative efforts of photographer Daniel Bracci and set out to shed light on the overwhelming oppression experienced by media outlets in their home country, while at the same time highlighting the human rights violations also taking place throughout Venezuela.
Taking to social media to address social problems
Fernández and Bracci used social media to spread their message of awareness and their feelings of angst over the political situation in Venezuela. The photographs forming part of their "Tu Voz es Tu Poder" campaign were uploaded to Instagram with the hashtag #MordazasEnVenezuela (#GaggedInVenezuela).
Bracci, who is also an illustrator and graphic designer, wanted the chilling photo shoot to help him create a powerful enough visual that could convey the situation people in Venezuela are currently enduring.
"This campaign started because something directly affected me, when my grandfather passed away because of the hampa (the underworld-like situation) taking place in Venezuela," said Bracci to Informe 21, a news outlet in his homeland.
Fernández, however, is not the only recognizable face which can be spotted in the campaign's photos. Political prisoners, athletes, actors, journalists and people who have been directly affected by the wave of violence rippling throughout the South American nation have also stopped to pose in front of Bracci's camera lens.
Originally published on VOXXI as Why is an ex Miss Universe from Venezuela gagged and bathed in blood
BEFORE YOU GO
PHOTO GALLERY
These Images Beg You To #PrayforVenezuela