 From New York City to Los Angeles, America's greatest cities are home to some of the world's most breathtaking works of art. No, we're not talking about masterpieces housed in museums like the Met or the Getty, though they are undoubtedly beautiful in their own right. We're talking about the impressive feats of visual splendor plastered on the empty walls and underpasses of your hometowns. We're talking about street art.
Street artists have been breaking up the monotony of urban meccas for decades, beautifying the bare spaces of the public realm with their particular brands of color and design. Instead of oil paint or marble, artists like Shepard Fairey and Swoon reach for cans of spray paint, wheatpastes and stencils, proving masterpieces exist outside the halls of fine art galleries too.
While it's true that many cities have encountered their fair share of conflict with graffitists in the past, American audiences have largely embraced the world of open air art. From major museum exhibitions to the celebritization of street art stars, the genre has become a welcome form of ephemeral creativity and artistic innovation. It has its own community of experienced critics and scholars, like the experts at Brooklyn Street Art, Jaime Rojo and Steven Harrington, who write regularly about the "the power of street art to reface, re-contextualize, re-energize and re-imagine a building and its place in the neighborhood."
In celebration of America's thriving subculture of street artists, we've compiled a list of the greatest art that can't be found in a museum. Whether they're temporary or permanent, penned by an anonymous maker or a household name, behold: the stunning artworks lurking on the corners of U.S. cities.
1. New York, NY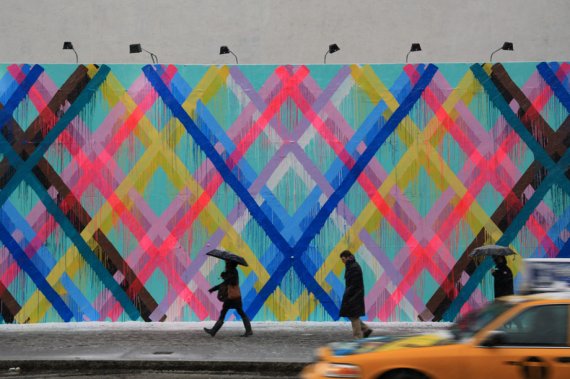 Maya Hayuk's mural on the Bowery Wall in New York City in 2014. (Photo courtesy Luna Park)
2. Chicago, IL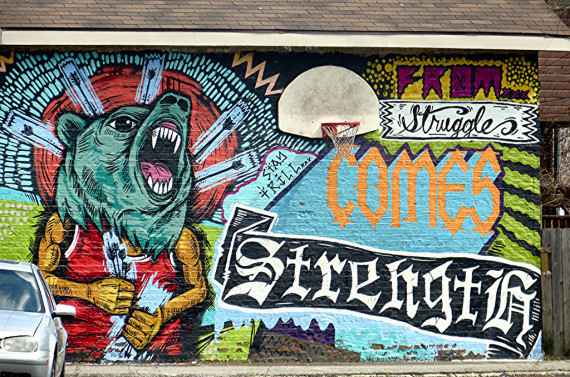 "From Struggle Comes Strength" mural by SENTROCK in Chicago in 2012. (Photo courtesy Chicago Street Art Flickr)
3. Philadelphia, PA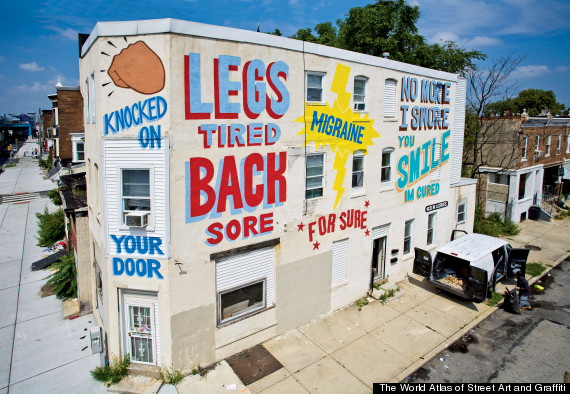 "Love Letter" mural by Espo aka Stephen Powers in Philadelphia in 2009. (Photo courtesy Adam Wallacavage)
4. Baltimore, MD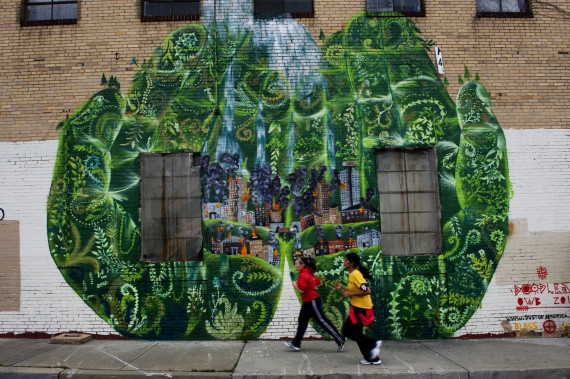 A mural by Doodles in Baltimore in 2012. (Photo courtesy Jahi Chikwendiu/The Washington Post via Getty Images)
5. Miami, FL Mural by Entes and Jade Rivera in the Wynwood area of Miami in 2012. (Photo courtesy AP Photo/Alan Diaz)
6. Seattle, WA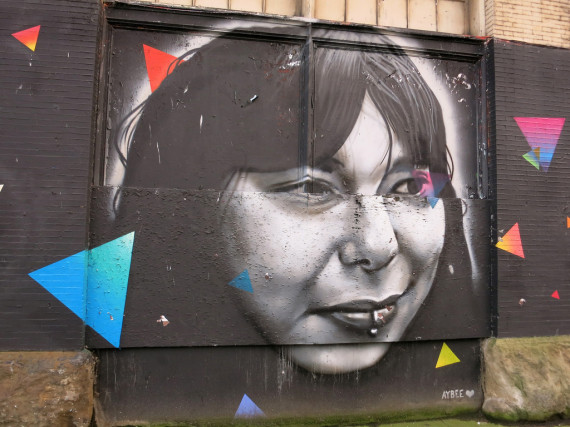 Mural by Jeff "Weirdo" Jacobsen and Joey Nix in Seattle in 2014. (Photo courtesy Chris Christian/Flickr
7. Los Angeles, CA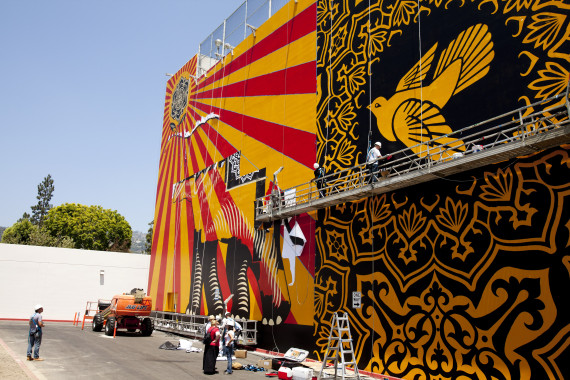 A Shepard Fairey mural in West Hollywood, Los Angeles in 2011. (Photo courtesy Konrad Fiedler/Bloomberg via Getty Images)
8. Austin, TX The famous "Hi, How Are You" mural by Daniel Johnston in Austin in 2004. (Photo courtesy AP Photo/Harry Cabluck, File)
9. Boston, MA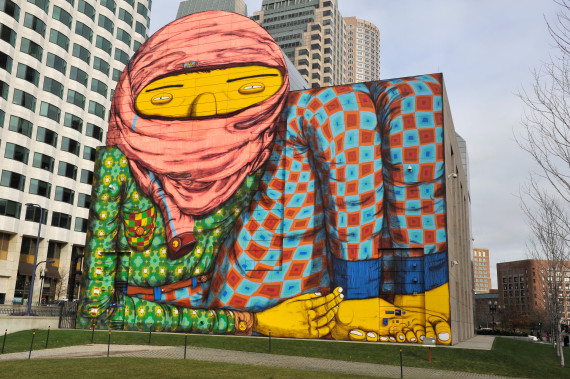 An Os Gêmeos mural in Boston in 2012. (Photo courtesy Paul Marotta/Getty Images)
10. Indianapolis, IN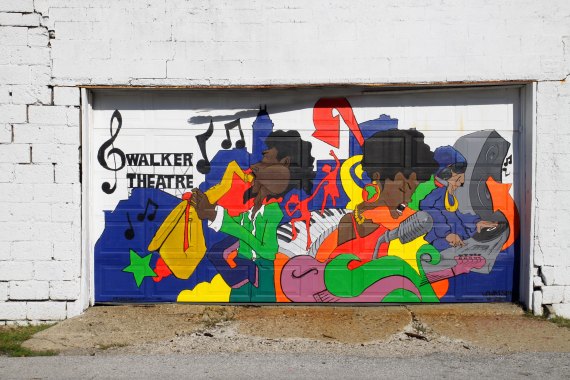 A musical mural by Will Watson in Indianapolis in 2012. (Photo By Raymond Boyd/Michael Ochs Archives/Getty Images)
11. Denver, CO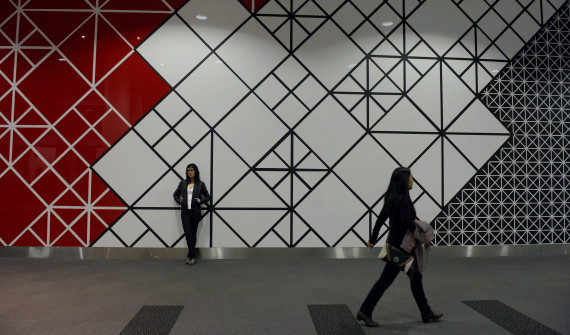 "I Know You Know That I Know" mural by Sandra Fettingis in Denver in 2014. (Photo courtesy Craig F. Walker / The Denver Post)
12. Washington, DC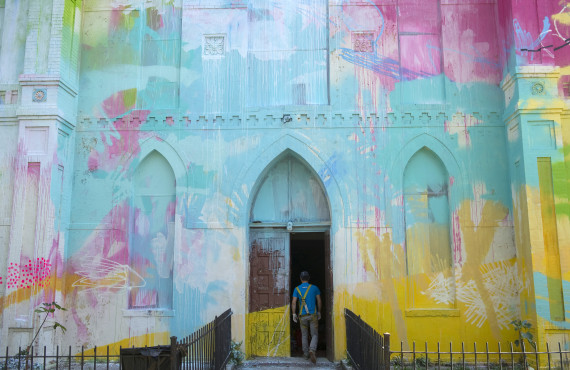 Alex Brewer, aka Hense, covered a former church in a multi-colored mural in 2012.
13. San Francisco, CA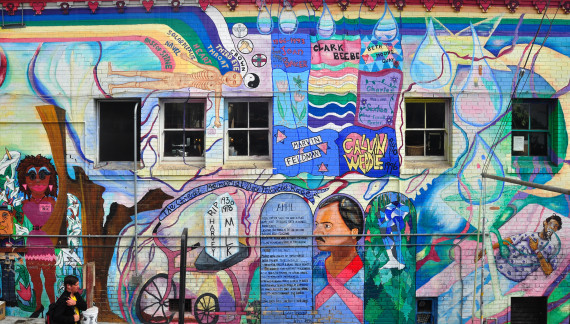 A mural dedicated to AIDS victims in San Francisco in 2013. (Photo courtesy Robert Alexander/Getty Images)
14. Atlanta, GA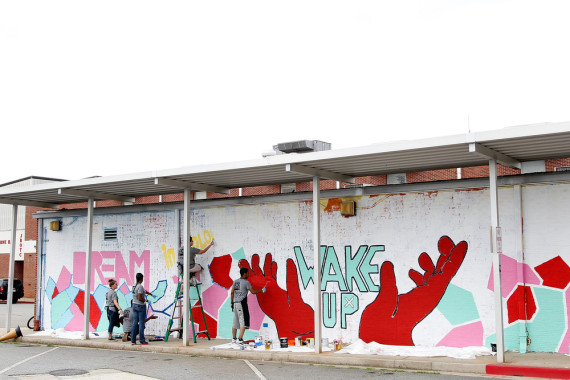 A mural co-designed by artist "Thank You X" and singer Keri Hilson in Atlanta in 2012. (Photo courtesy Ben Rose/Getty Images for Bing)
15. St. Louis, MO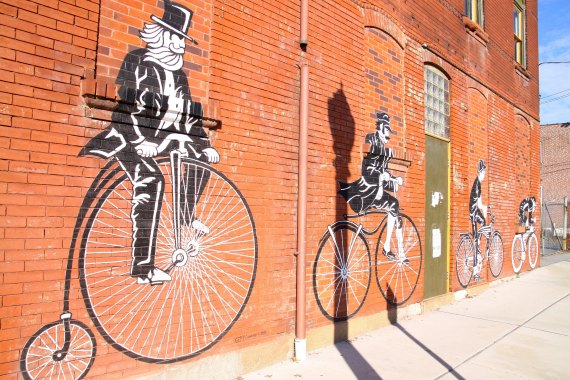 Grace McCammond's "Evolution Of The Bike" mural in 2012. (Photo courtesy Raymond Boyd/Michael Ochs Archives/Getty Images)
16. Pittsburgh, PA A Romare Bearden mural in Pittsburgh in 2008. (Photo courtesy of AP Photo/Gene J. Puskar)
17. Portland, OR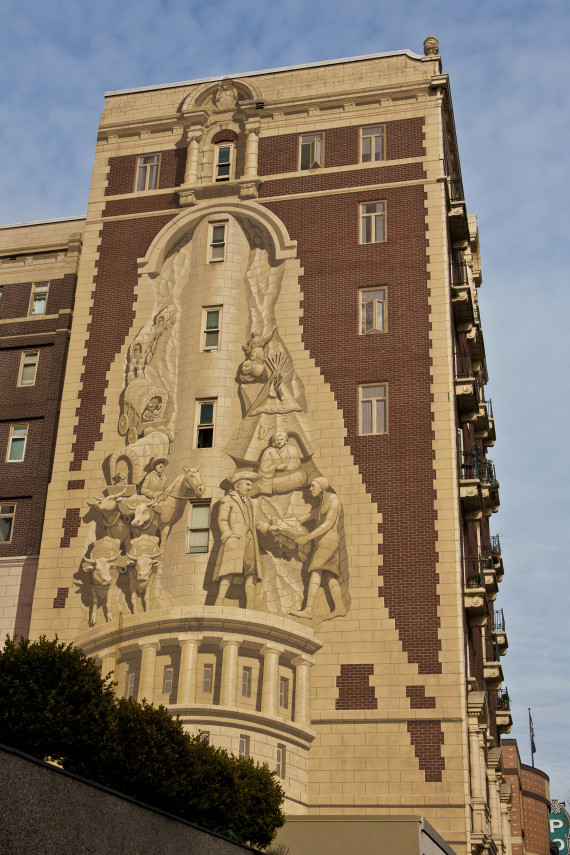 A mural depicting the Oregon Trail in Portland in 2012. (Photo by George Rose/Getty Images)
18. Cleveland, OH A mural of a whale in Cleveland in 2012. (Photo courtesy AP Photo/Tony Dejak)
19. Detroit, MI A traffic light adorned with art similar to the Heidelberg Project's Polka Dot House in Detroit in 2006. (Photo courtesy of AP Photo/Carlos Osorio)
Correction: A previous version of this article stated that the Wynwood, Miami mural was created by Entes y Pesimo, but it was actually painted by Entes and street artist Jade Rivera. The caption has since been updated.
BEFORE YOU GO
PHOTO GALLERY
Best Cities For Street Art