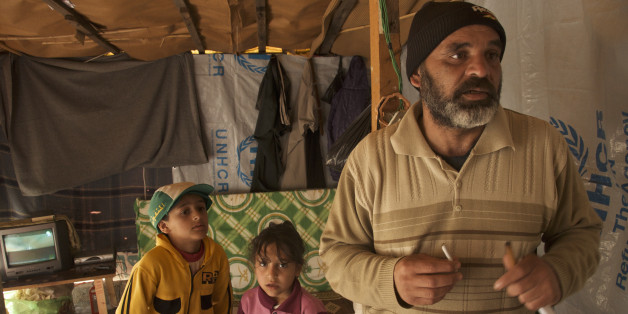 BEBNINE, Lebanon -- The residents of this informal refugee settlement in northern Lebanon have a familiar list of complaints: no money, no jobs, little food to eat and filthy conditions surrounding their homemade tents. But recently, they have added another item to the list: the aid organizations that are meant to fix such problems.
The families who settled here after fleeing the raging civil war in Syria, now around 50 in total, say that NGOs arrive at their camp every month or two to jot down names and promise that aid is on the way. Some drop off goods that they say do little to improve their lives, like foam mattresses and iodine tablets for purifying water. Others offer programs like English lessons, which are a low priority for families struggling to feed themselves. And then, the residents say, they pile back into their SUVs and are usually never heard from again.
"Nothing makes any sense," says Jalal Ahmad, the informal leader of the camp. A stove in his tent and a stack of flyers from various NGOs that rests on top of it, are virtually the only signs that aid groups have visited the people here at all.
With nearly 1 million Syrian refugees now in Lebanon, increasing the country's population by about a quarter, the scale of the humanitarian crisis has overwhelmed the capacity of NGOs. Aid groups in the Akkar region, where Bebnine is located, must try to fill the needs of Syrians spread across 200 refugee settlements using meager funding. They have received a little more than $240 million in 2014, but that's only 14 percent of the amount they've requested for the year, according to the U.N. High Commissioner for Refugees. The shortfall has led to confusion and anger among some refugees like the ones in Bebnine, who now dismiss NGOs as thieves and liars.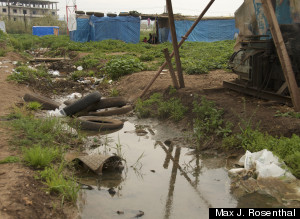 A stagnant stream running along the outskirts of the tented settlement in Bebnine, Lebanon. Residents say that rats and snakes are abundant in the area.
Bathoul Ahmed, a media officer for the UNHCR in the nearby city of Tripoli, readily admits that the skyrocketing number of refugees has overwhelmed aid efforts. The group must visit and assess camps to determine what refugees need, which is time- and labor-intensive. And NGOs only work together in loose coordination under the auspices of UNHCR, she says, meaning that aid groups may still accidentally bypass certain areas or camps.
"There will always be a gap," Ahmed says. "You will always find that somebody will say I'm not getting this and I should be getting that, and they're probably right."
The refugees themselves blame darker motives, though there is no proof of their claims. They insist that NGOs pocket most of the aid money given to them, buying cars instead of supplies for refugees. Aid groups are only here for prestige, they say.
Some refugee camps in Lebanon are relatively clean and orderly, but life here is noticeably squalid. Tents are constructed on bare earth out of scrounged-up materials, with only the occasional strip of the tough billboard fabric that aid groups distribute. The only source of water, says Khaled, a resident who declined to give his last name because of safety concerns, is an open pipe behind a nearby building. The refugees say the water is polluted and has caused ailments like kidney stones and a rash that creates small gray bumps on their children's skin.
Even when aid groups do come through, the refugees have other problems. They cobbled together their tents on about 11 acres of unused land owned by Muhammad Murabi, a businessman and member of one of Bebnine's prominent families. Murabi charges a monthly rate of 50,000 Lebanese lira -- around $33 -- for the right to put up a tent, a fair price by the standards of many refugee landlords but still onerous for families that can't find work. Most rely on handouts from Lebanese neighbors or loans they take out from Ahmad, hoping that they'll be able to pay him back one day.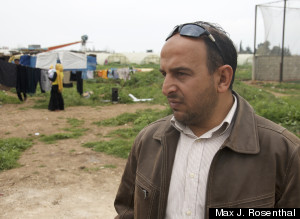 Muhammad Murabi rents land to refugees to put up tents at the informal camp.
Murabi makes no profit from the refugees, and he says he doesn't mind. He calls the Syrians his brothers and shares their rage at NGOs, mocking aid workers who visit the camp. "Take a picture of me! Oh, I helped the children," he says in a sarcastic singsong. "Take the photo, take the video, then go without doing anything." He ticks off the things his tenants desperately need: food, money, medical aid and toilets.
But Ahmad says that Murabi recently declined to give permission to Concern Worldwide, an Irish aid group, to build toilets for the camp. Murabi confirms this, saying the toilets would have drained onto his farmland right next to the tents and potentially ruined it. Concern Worldwide also asked him to pay for the weekly cleaning costs for the toilets. Already running a loss from renting land to refugees, he says he wasn't willing to go further into the red.
In Syria, before the war, Ahmad was an affluent project manager for an engineering firm. He is angry but resigned, describing problems with the air of someone who has done it many times. At one point, he offers a stunning admission.
"I wish we were dead in Syria rather than staying here," he says, then turns back to his tour.
With contributing reporting from Natheer Halawani.
UPDATE: April 2 -- Concern Worldwide, which at the time of publication did not elaborate on details of the project to build toilets in Bebnine, provided the following statement:
"It is our standard practice wherever we build latrines to support their maintenance and to encourage families using them to participate. We provide larger maintenance work, including regular emptying of the septic/holding tanks, and any needed repairs, while families are responsible for cleaning and general daily care. Our hygiene promotion team works with the families on these issues regularly. When there is an environmental risk, we install fiberglass and/or masonry holding tanks to prevent the waste from leaking into the environment and have done so in numerous cases in Akkar district. However, Concern recognizes and respects that it is the landlord's decision on whether to allow the latrines to be built, even when there is no cost involved for the landlords."