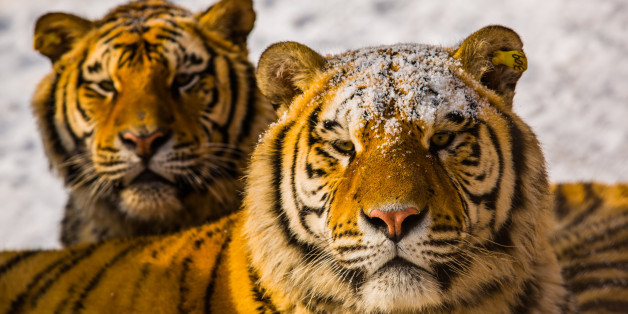 Several tigers reportedly were slaughtered earlier this month as a "visual feast" for wealthy businessmen in the southern province of Guangdong, China, according to state media reports.

Fifteen suspects were arrested last week in connection with the illegal killing of at least 10 tigers for entertainment purposes, according to the Global Times.
"The tigers were probably anesthetized for transport. But buyers would check them to make sure that they were alive before the killing," an unnamed source told Nanfang Daily, according to a report from the Agence France-Presse.
The practice of killing the live animals in a communal setting is considered an act of exemplifying one's high social stature, per the AFP.
A butcher allegedly involved in the tiger slaughter jumped to his death while trying to escape during a police raid earlier this month, the AFP reported Wednesday.
Despite a 1993 trade ban on selling tiger products, tiger meat and bones are seen as status symbols and often are integrated into traditional Chinese medicine.
"Tigers are subjected to slaughter as long as Chinese have faith in the medical value of tiger products, such as their bones or male genitalia, which are actually very controversial in terms of their efficacy," Xie Yan, an expert from the Chinese Academy of Sciences' Institute of Zoology, told the Global Times.
"Tigers are first class national protected animals in our country and it's illegal to raise tigers without a certificate. But many will raise them for profit and do underground business," Xie told the news outlet.
The World Wildlife Fund estimates that more than 1,000 tigers have been poached and killed for their body parts in Asia over the last decade.
BEFORE YOU GO
PHOTO GALLERY
Tiger Overload