 A new AP-GfK poll shows support for Obamacare falling to a record low, but the write-up leaves out an important detail. Among the uninsured, Democrats are twice as likely as Republicans to say they're getting insurance. And young Americans have moved leftward since 2006. This is HuffPollster for Friday, March 28, 2014.
AP: 'OBAMA HEALTH LAW FAILS TO GAIN SUPPORT' - Dennis Junius and Ricardo Alonso-Zaldivar: "Public support for President Barack Obama's health care law is languishing at its lowest level since passage of the landmark legislation four years ago, according to a new poll. The Associated Press-GfK survey finds that 26 percent of Americans support the Affordable Care Act...The poll found that much of the slippage for the health care law over the last four years has come from a drop in support, not an increase in opposition. In April of 2010, soon after the law passed, 50 percent of Americans said they were opposed to it, while 39 percent were in favor. Ten percent were on the fence. Now, just 26 percent say they are in favor, a drop of 13 percentage points. Forty-three percent say they are opposed, a drop of 7 percentage points since that poll four years ago. But the number who neither support nor oppose the law has tripled, to 30 percent. The 26 percent in favor in the AP-GfK poll is not significantly different from the 27 percent registered in January and December." [AP/HuffPost, AP-Gfk; see also HuffPollster on AP's switch to online polling]
A different trend than other polls - Other polls that have tracked opinion on Obamacare since its passage in 2010 have found a different trend. Support has remained mostly steady , except for a brief rise on some polls coinciding with Barack Obama's reelection in 2012, while opposition increased modestly following the rollout of healthcare.gov in October. [Pollster chart]
Why the change? - The AP story didn't mention one important change in their methodology (though it is noted by a footnote in the accompanying filled-in questionnaire). Beginning in October, 2013, AP and GfK shifted from live interviews conducted via telephone to interviews conducted online using the GfK's Knowledge Panel, a group of Americans selected using conventional, random sample surveys who agree to participate in polls over the internet. Respondents often give different answers to questions asked over the telephone than to questions they read online. In this case, they appear to be far more likely to pick the middle "neither agree nor disagree" response when completing the survey online. [AP-GfK; see also HuffPollster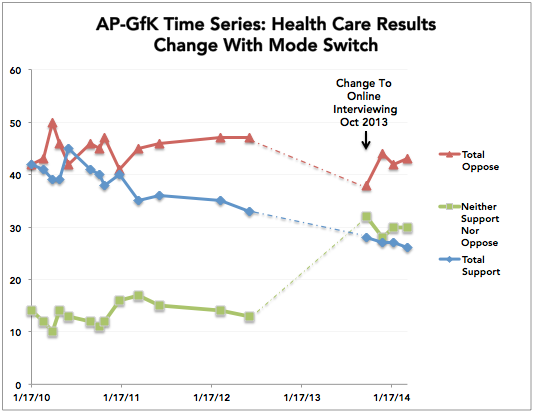 Not all about the methodology switch - Other have surveys showed movement in attitudes about Obamacare in between June 2012 and October 2013, so not all of the change observed in the AP results is due to a shift in survey mode. However, two additional online AP surveys confirm that far more respondents choose the "neither agree nor disagree" response when interviewed online (on a question with slightly different wording). In September 2010, for example, 30 percent said they "neither favor nor oppose" the law when interviewed online, only 12 percent said "neither support nor oppose" in their telephone survey that month. In August 2012, the online "neither" number was 32 percent. In June 2012 the telephone poll "neither" number was 15 percent. [AP online survey from Sept. 2012]
UNINSURED AMERICANS' PLANS VARY BY PARTY - Frank Newport: "Three-quarters of uninsured Democrats say they still plan on getting insurance rather than pay a fine, double the percentage of uninsured Republicans. This strongly partisan divide in Americans' intentions to comply with the Affordable Care Act's individual mandate is in line with what Gallup has found in previous months, underscoring the ongoing political nature of the public's relationship with the ACA. The sharp political divide in these views highlights a key challenge facing the Obama administration and other ACA proponents: that Americans view the legislation not on its merits or benefits to the individual, but rather through strictly political lenses. The degree to which uninsured Americans' actual purchases of health insurance will match their self-reported intentions is not clear. Gallup will report additional research in April that will shed light on the demographic makeup and health status of those who are newly insured since January, focusing particularly on whether Democrats have been more likely than Republicans to sign up." [Gallup]
YOUNG AMERICANS MORE DEMOCRATIC - Jeffrey M. Jones, in a followup to a piece that found older americans shifting rightward: "Young adults -- those between the ages of 18 and 29 -- have typically aligned themselves with the Democratic Party, but they have become substantially more likely to do so since 2006. From 1993 to 2003, 47% of 18- to 29-year-olds, on average, identified as Democrats or said they were independents but leaned to the Democratic Party, while 42% were Republicans or Republican leaners. That time span included two years in which young adults tilted Republican, 1994 and 1995, when Republicans won control of Congress. Since 2006, the average gap in favor of the Democratic Party among young adults has been 18 percentage points, 54% to 36%....A major reason young adults are increasingly likely to prefer the Democratic Party is that today's young adults are more racially and ethnically diverse than young adults of the past. U.S. political preferences are sharply divided by race, with nonwhite Americans of all ages overwhelmingly identifying as Democrats or leaning Democratic." [Gallup]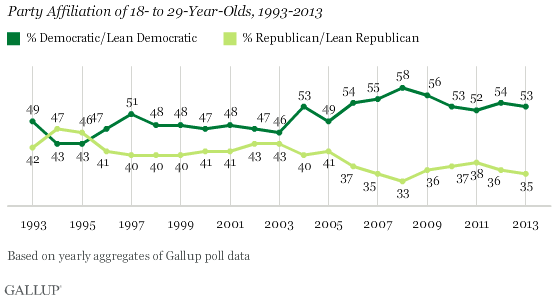 MEDIA MATTERS (D) GOES AFTER RAND PAUL'S POLLSTER (R) - Eric Hananoki: "The Washington Post reported that [Rand] Paul is building a national network to potentially support a 2016 presidential run, and is using Fritz Wenzel as his pollster….Wenzel is a birther who has called President Obama an 'imposter,' and teamed up with conspiracy site WND to push dubious polling about the president's birth certificate. In addition to promoting conspiracy theories, Wenzel is also an objectively poor pollster. He has a long history of offering wild electoral predictions, prompting Slate reporter Dave Weigel to dub him the 'pollster that's always wrong.'...As Media Matters' Terry Krepel noted, Wenzel has asked such poll questions as: 'President Obama has still not produced a long-form birth certificate that proves he was born inside the United States. Knowing this, do you consider him to be a legitimate President?' and 'Thinking about his performance in office and his agenda for the country, and knowing about the on-going questions about his birth certificate, are you more or less likely to believe in his legitimacy as President?'" [Media Matters]
Big GOP 'house effect' - As HuffPollster explained to Media Matters, Wenzel's polling during the 2012 campaign produced one of the most extreme "house effects" in Romney's favor, a difference from other pollsters that turned out to be very much in error. The seven publicly available Wenzel polls on the Obama-Romney race produced as house effect score of --2.3 (meaning that Obama's share of the two-party vote was, on average, 2.3 percentage points lower on their polls than the overall industry average trend). By comparison, robopollsters Rasmussen Reports and Gravis Marketing each earned a -1.5, while Gallup's score was --1.8. [HuffPost on 2012 house effects; for specific examples see also @Politico_Steve via Storify]
HUFFPOLLSTER VIA EMAIL! - You can receive this daily update every weekday via email! Just click here, enter your email address, and and click "sign up." That's all there is to it (and you can unsubscribe anytime).
FRIDAY'S 'OUTLIERS' - Links to the best of news at the intersection of polling, politics and political data:
-Optimism about the nation's short-term economic recovery is at a new low. [Rasmussen]
-Kathy Frankovic says views about the Affordable Care Act appear set in stone. [YouGov]
-Gay people are viewed more favorably -- and more unfavorably -- than evangelical Christians. [HuffPost]
-A state-sponsored poll of Russians finds little support for the U.S. [Voice of Russia]
-David Winston (R) takes to video to argue we're still a "center-right" nation. [Winston Group]
-Charlie Cook explains why 2014 could give false hope to the GOP. [Cook Political]
-Chris Wilson (R) foresees doom for the Democrats on Obamacare. [WPA]
-Elizabeth Wilner highlights some big political ad buys that were not disclosed (as required) via the FCC website. [Cook Political]
-David Lazar, the academic who dissected the failures of Google Flu Trends, is still bullish on "big data." [Chronicle of Higher Ed]